I own a originally Red june-1993 supra SZ which was bought by me when first imported into the Netherlands back in august 2009. Since my ownership the car has been undertaken a few major changes as for example the 2JZ-GE got exchanged for an 2JZ-GTE, also the 5-speed W58 got exchanged for an 6-speed V160 in combination with an A02B differential.
BPU'd the 2JZ-GTE and upgraded the j-spec 2/1 pot configuration into the US-spec brakes all round. The supra is recently completely overhauled, the previous owner(s) resprayed the supra in a goldish, top-secret ish color with an aftermarket body kit. I wanted to get the supra back in her original shape with only OEM exterior parts. The supra recieved a full overhaul and is sprayed in Toyota's 040 white, during the overhaul she received new window seals and installation materials as bolts, nuts, clips etc. Also she received OEM facelift lightening all round. Also new CCW wheels got fitted.
Small you tube video of my supra almost finished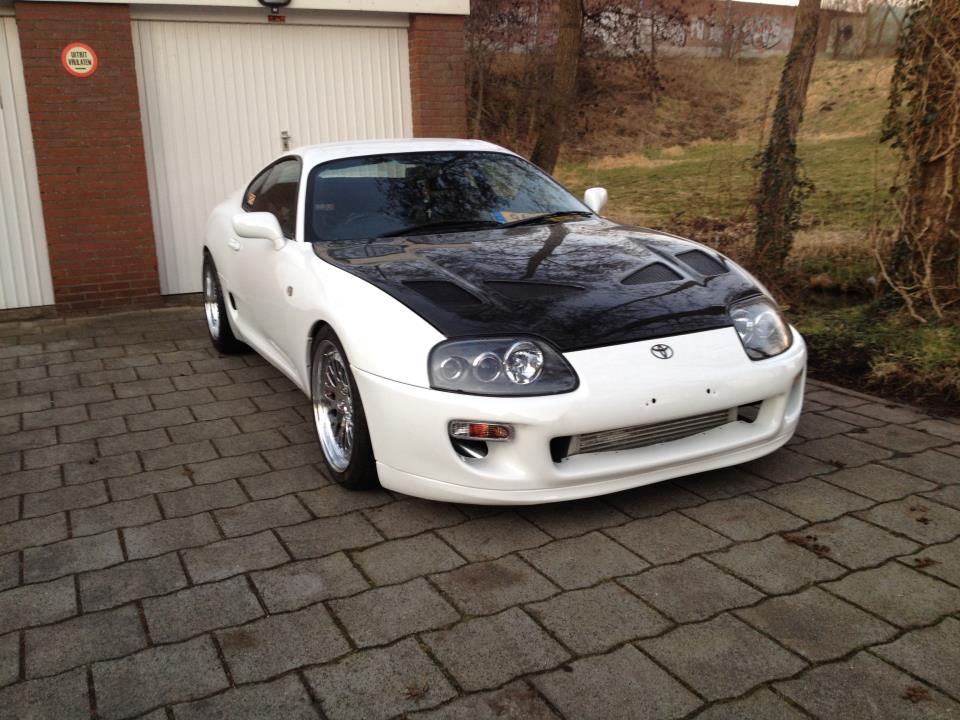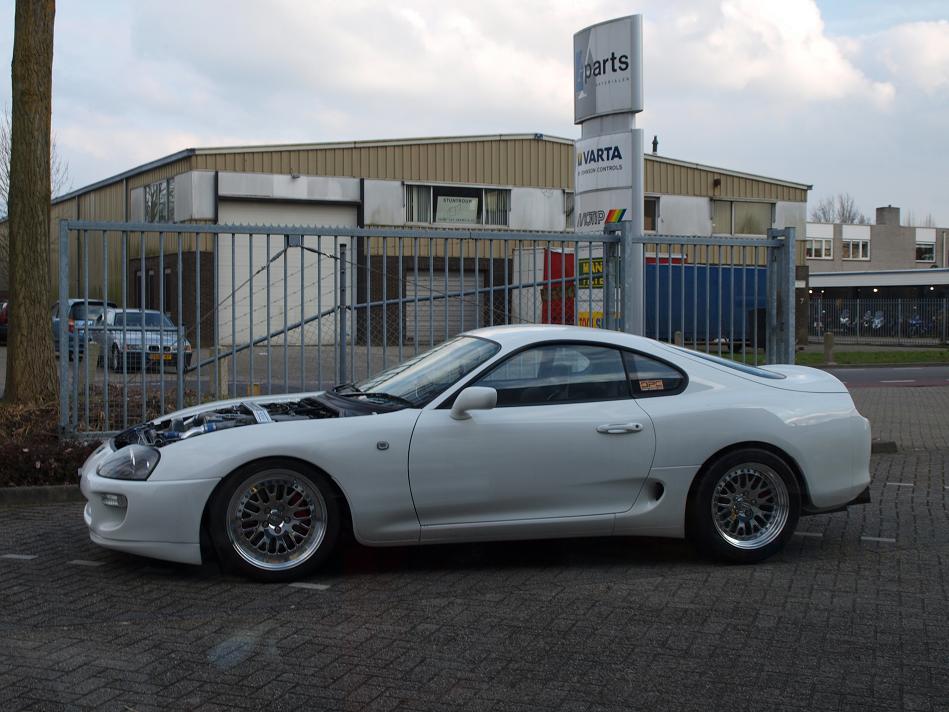 ---
Description:
Engine Specifications:
Turbocharger & Induction:
Stock Japanese ceramic turbo's
Stock Manifold
Blitz SUS air intake
Greddy Type-S bov
Cooling:
Stock Radiator
AB 88 FMIC
APR carbon fiber upper radiator slam panel
Fuel, Tuning & ECU:
Stock ecu
FSC Free Speed Limiter removed
Greddy boost cut controller
Stock 440cc Injectors
Grade 7 spark plugs
Stock fuel rail
Walbro fuel pump
AVC-R ebc
Exhaust:
1st decat 2.5''
3'' midpipe (2nd decat)
4'' HKS Titanium Racing Exhaust
Drivetrain:
V160 Getrag 6-speed
A02B auto differential
Weight Reduction BWR (Basic Weight Reduction) & Transfer:
Removal of rear seat and all rear seatbelts/bolts
Removal of stock spare tire
Removal of stock jack
Replacement of stock air box with aftermarket intake assembly
Replacement of stock cats with aftermarket downpipe
Replacement of stock exhaust with aftermarket S/S or Ti exhaust
In addition to the basic weight reduction:
Removal of stock power antenna
Removal of factory charcoal canister
Replacement of stock steering wheel/airbag with aftermarket unit
Replacement of stock wheels with lighter aftermarket wheels
Removal of factory subwoofer enclosure and sub
Removal of stock stereo and amplifier (replaced with aftermarket head unit)
Removal of hatch wiper/assembly
Suspension, Wheels, Tires & Brakes:
OEM disks
UK-spec brakes all round 4/2 pot front/rear
CCW wheels 18x10, fronts 17x11.5 rears
Bridgestone Potenza RE050A 18/275/35 fronts Kumho ecsta xs 17/315/35 rears
CCW provided nuts
Tein Type-HR
TRD front tower bar (chromed)
Interior & ICE:
Alpine double din headunit + alpine sat nav
Kenwood compo set front
MTX compo set in stock housings at the rear
Tenzo R inclining seats
QSP six point harnesses
Personal steering wheel
Veilside 6 speed gearknob
Rear seats deleted and floor is covered with a custom made porsche carpet
Exterior:
Pre Facelift OEM hardtop body (040 white)
Facelift lightening all round
Center brake light deleted
Aerial deleted
De-wipered
Reflectors in rear quarterpanels deleted
Performance:
Max power - 446 Hp
Max torque - 589 Nm
This is the latest dyno chart, the supra was dynod at DP engineering Netherlands on a dyna pack hub dyno. Note that the boost was 1,36Bar.
In addition to the above modifications:
During the engine transplant, the trust air intake got exchanged for an blitz sus air intake.
During the engine transplant an after market ab88 fmic got fitted
During the rear seat deletion the floor got covered with an custom ''porsche carpet'' which matches the interior color
Genuine spark plug cover is exchanged for the c/f spark plug cover
Radiator cap is exchanged for a TRD 1.3 bar radiator cap
Oil filler cap got exchanged for an TRD filler cap
APR C/F upper radiator slam panel got installed
Genuine radiator brackets got exchanged for Garage Whiffbitz polished billet alluminum brackets
Chromed TRD front tower bar got installed
Polished cool water hardpipe kit got installed
TRD high response cat back system got exchanged for an HKS titanium racing exhaust
The previous work meister S2R wheels got exchanged for CCW classics.