Toyota Supra mkiv



Justin's Mkiv

Location - Auckland - New Zealand
My Supra is a 1994 RZ (twin turbo) Auto thats been professionally converted to a Getrag 6 speed. It has the factory option side skirts.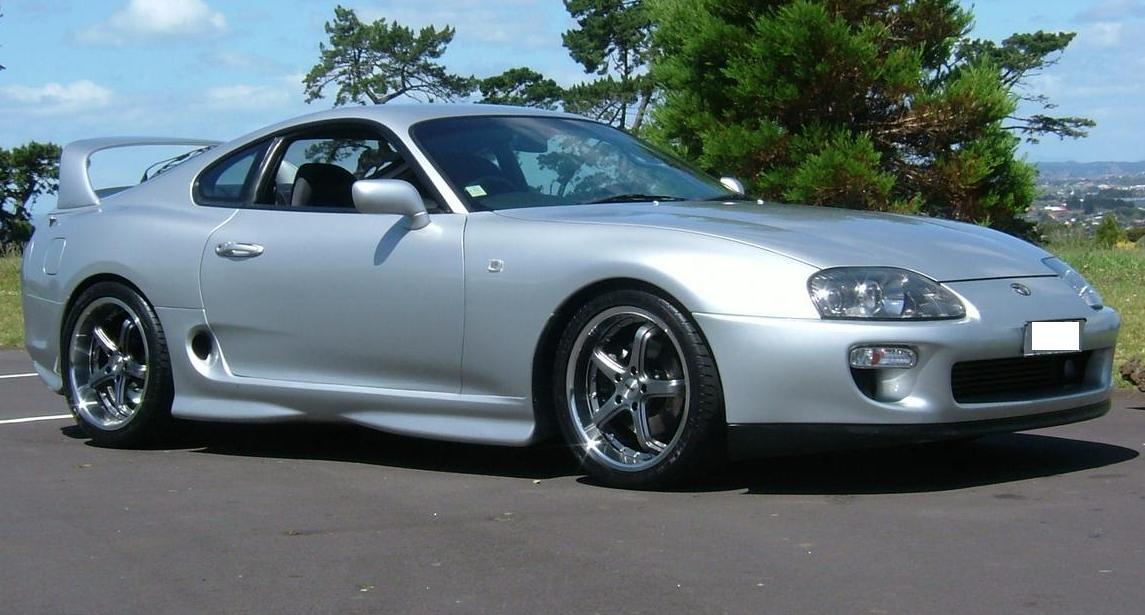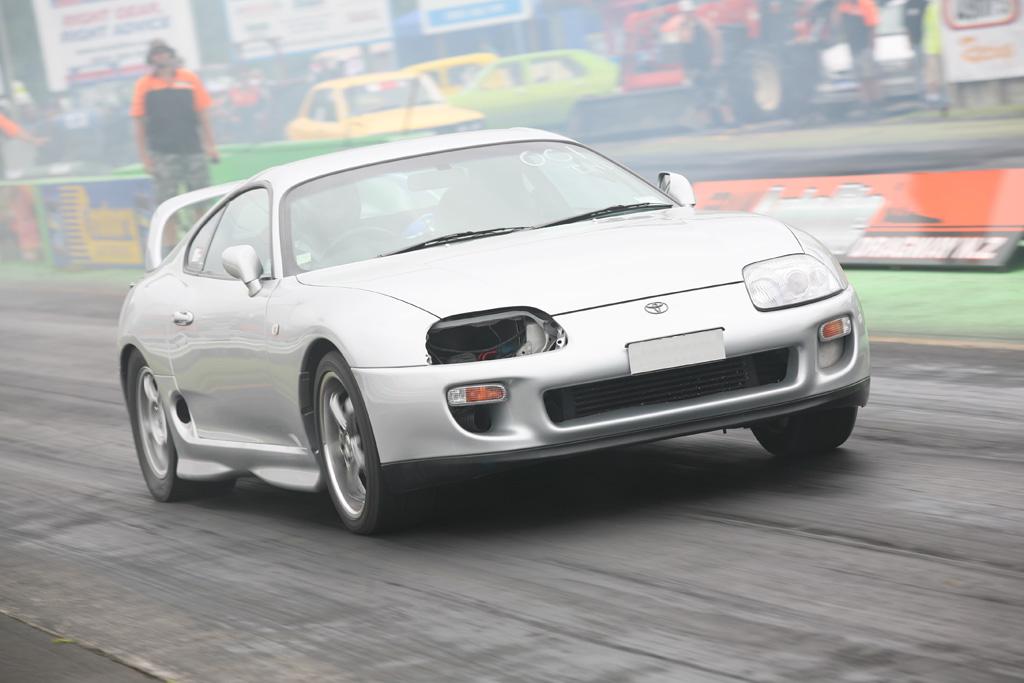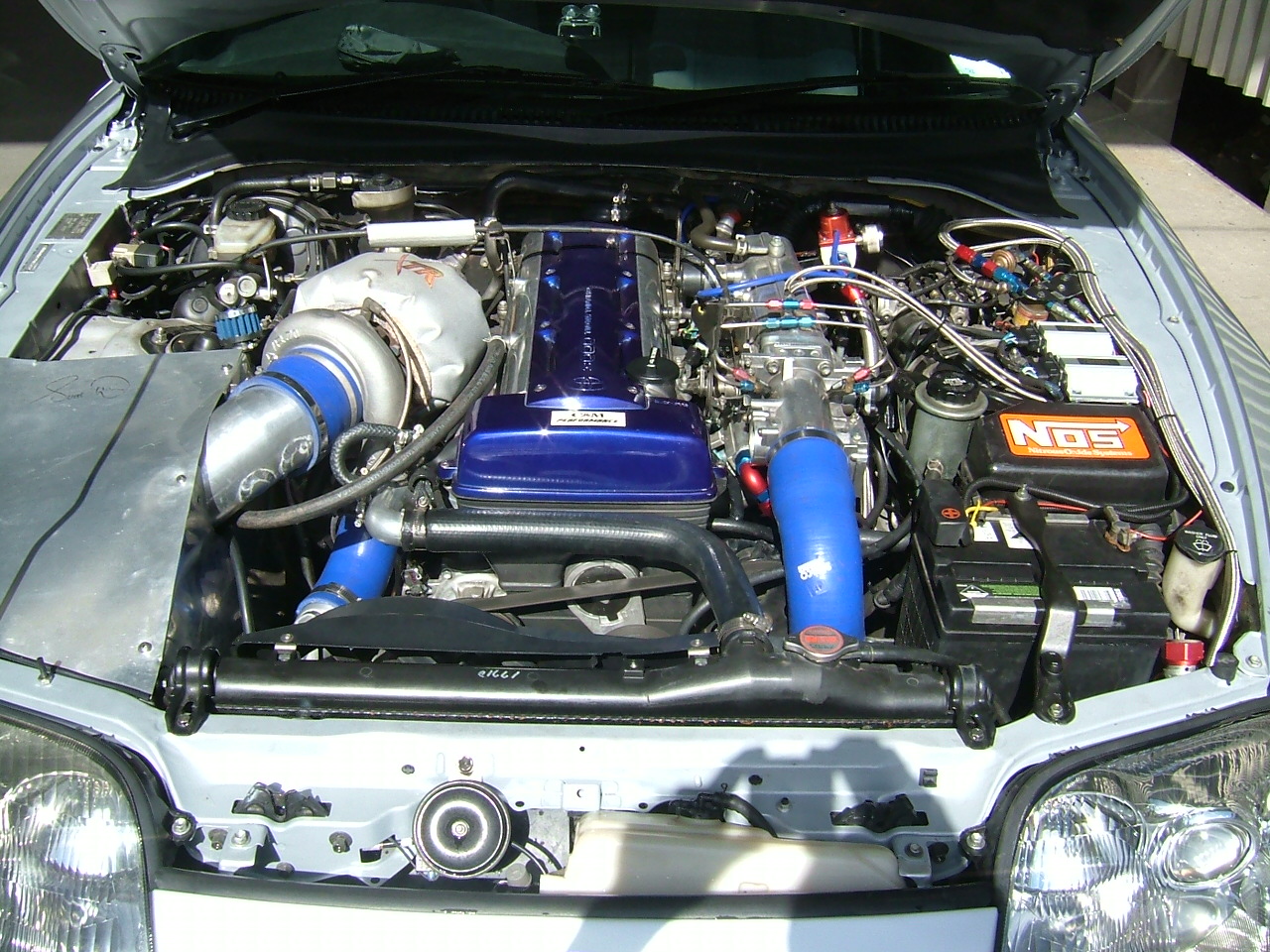 My engine mods are:
Garrett T04Z turbo with exhaust AR=0.96
Turbosmart 45mm wastegate
GReddy Profec-B boost controller
Link G2 ECU
Link 5 bar MAP sensor
Link Ignitors x 2
Kelford custom 264 cams (9.5mm lift)
K&N Pod air filter
Custom cold air box
Removed the traction control butterfly and associated electronics
TRD single plate clutch (3200lb) with TRD clutch disc
GReddy Type R blowoff valve
Sard 720cc injectors with Link Electrosystems 6 ohm resistor pack
Bosche 044 700hp fuel pump
SX fuel pressure regulator (1:1)
NGK BKR7-11 gapped to 0.7mm
NOS wet system with standalone fuel system, tank behind left side headlight, 100hp jets

My other mods are:
Running a 3.5" mandrel exhaust system, custom 4" resonator, Apexi 4" muffler
TSW Thruxton 18" alloys (8" front, 9.5" rear)
Tires Goodyear F1 Asymmetrics 235/40/18 275/35/18
Whiteline front and rear swaybars
Zex purge Kit for NOS
rear muffler by-pass
Factory option big brakes with slotted front rotors
King 50mm lowered springs
Koni 3 stage adjustable
Std Torsen 3.266 diff
Custom FMIC (600x300x75)
Mechanical fan replaced with XR8 twin 12" unit
Accessories - Kenwood CD, Fusion speakers, Alpine amp and a Sard boost gauge.
Drag Racing results:
Best ET - 10.703 @ 129.57 mph (208.52 km/h) with no NOS (1.547 60ft) - Getrag 6 spd gearbox
Best MPH - 131.64 mph (211.85 kph) on 4th April 2010 (with NOS) - Getrag 6 spd gearbox
Best Pukekohe lap - 1m 8.6sec (approx 255 kmh on back straight)
Best 60ft - 1.547
Best 330ft - 4.552
Best 1/8th mile - 6.953 on 29th March 2009
Best 1/8 kmh - 164.7 (102.37 mph) on 30th November 2007
Best 1000 ft - 8.990 on 29th March 2009


Old Drag Racing results:
Best ET - 12.791 @ 114.25 mph (no NOS) and 11.541 @ 120.5 mph (193.96 km/h) (100hp NOS) with stock auto trans


Trophy Race Results:
IDRAG Champion Turbo 2wd 2002
Import Battle Champion Turbo 2wd 2003
4 & rotary King of the Street 2007
NSDW 2000/2001 3rd place Turbo 6 cylinder
NSDW 2001/2002 2nd place C2
NSDW 2001/2002 1st place DYO
NSDW 2002/2003 3rd place C2
NSDW 2005/2006 2nd place C2
NSDW 2006/2007 2nd place C2
NSDW 2007/2008 1st place C2
NSDW 2008 spring 1st place C2
NSDW 2009 summer series 1st place C2
NSDW 2009 spring series 1st place C2
NSDW 2010 summer series 1st place C2
Chrome Expression 2016 flag drop drags 1st place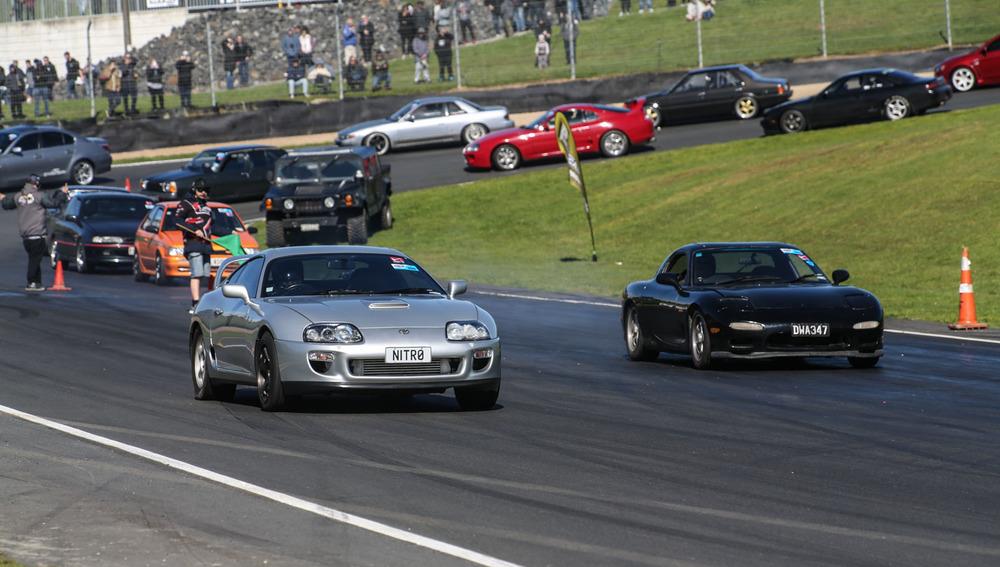 Other Trophies & Awards:
Supra Fest 2003 Dyno shootout Most Power 438 rwhp
Supra Fest 2003 Drags Fastest Overall Car 11.94
Supra Fest 2003 Show n Shine Best Engine Bay
Supra Fest 2003 Show n Shine Best Mark IV
Supra Fest 2003 Fastest Mark IV
Pukekohe Track Day 13.08.2005 Fastest Japanese Vehicle
4 and Rotary Import Battle 2007 C2 2nd Place Overall
NZ Performance Car Magazine May 2008 feature article
Suprafest 2008 Highest horsepower with 454rwkws, fastest Supra at 11.44 secs on a slippery track and best mkiv engine bay



Magazine Features:
Mag and Turbo Magazine 2001
Performance Car Magazine Year Book 2002
Rev Magazine 2003
Auto Trader Magazine Nov 2004
NZ Performance Car Magazine May 2008



I dyno'd my car at Hi Velocity on their Dyno Dynamics dyno and achieved 403rwkw and 455rwkw with a 100hp shot of NOS while running 24 psi.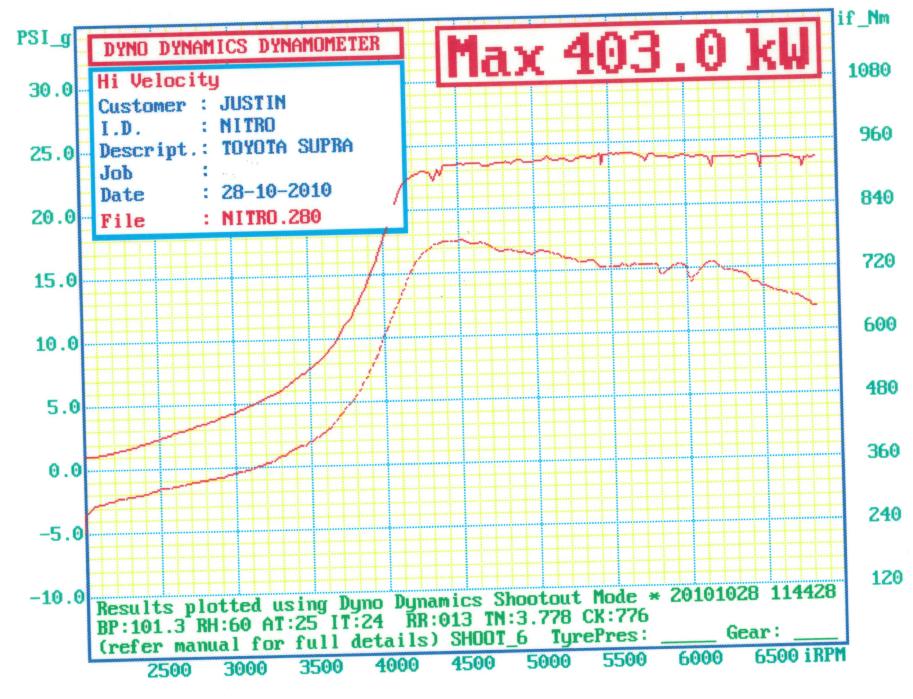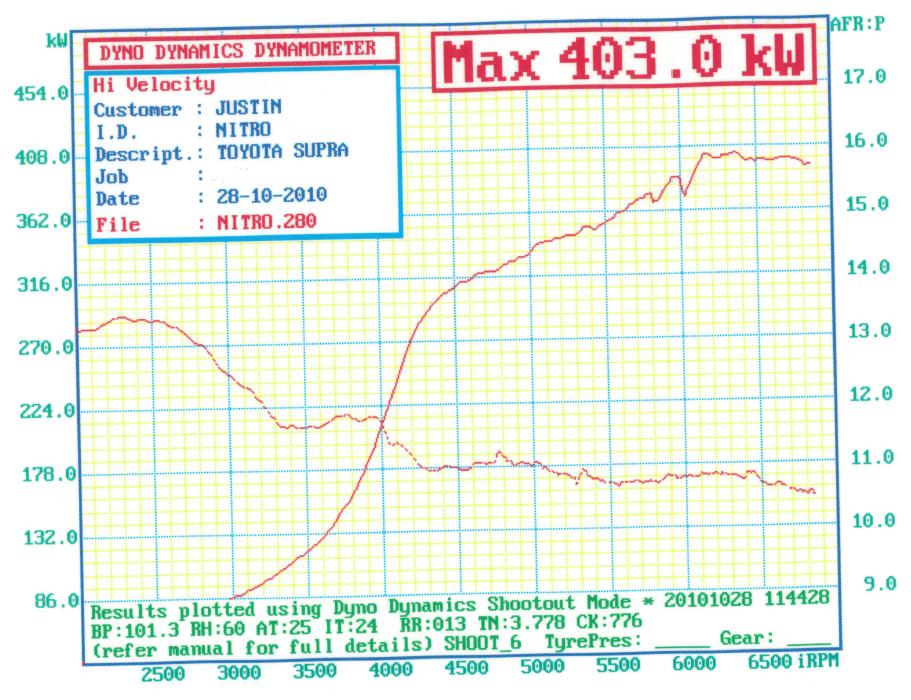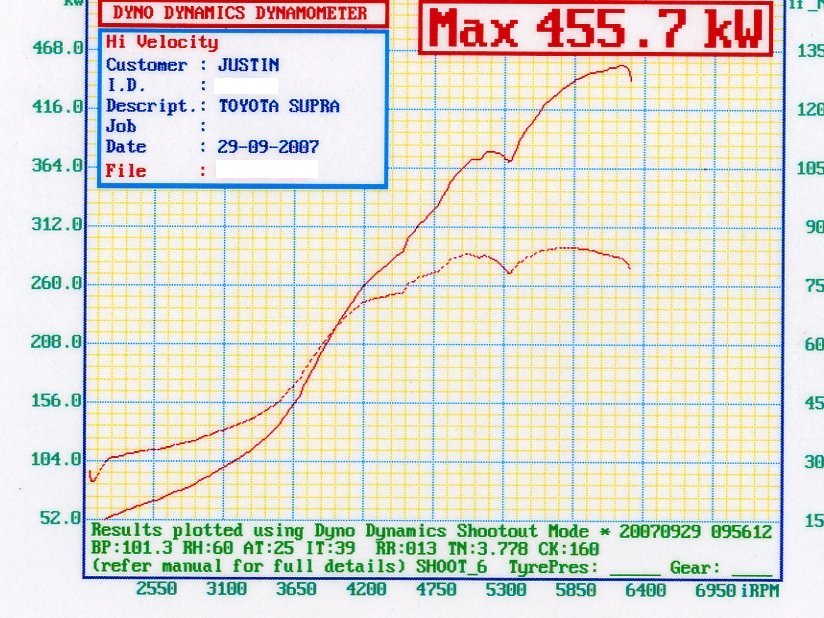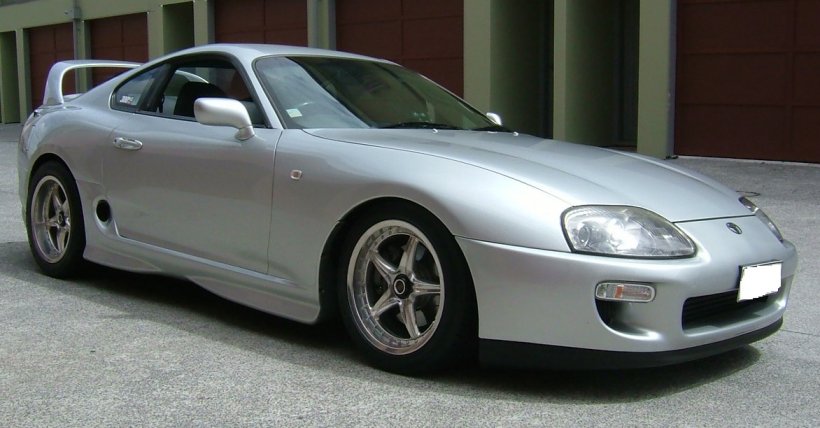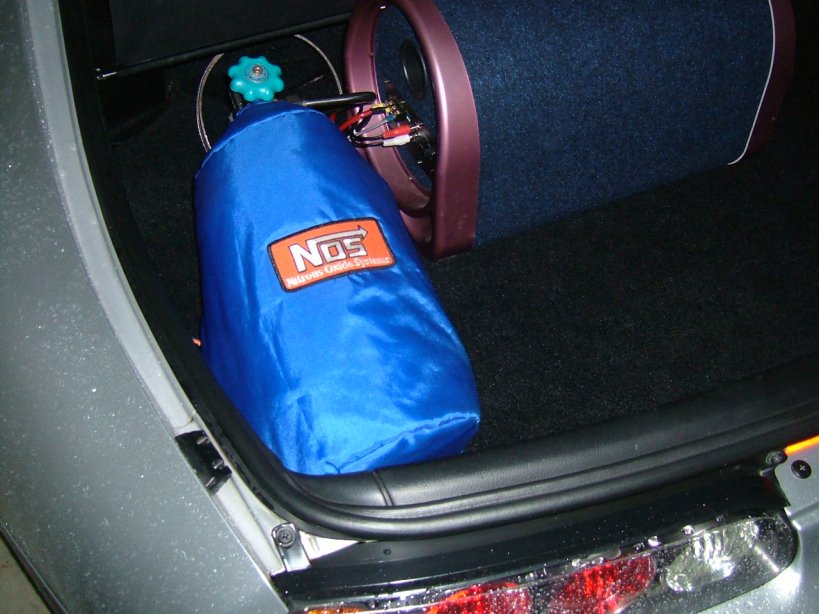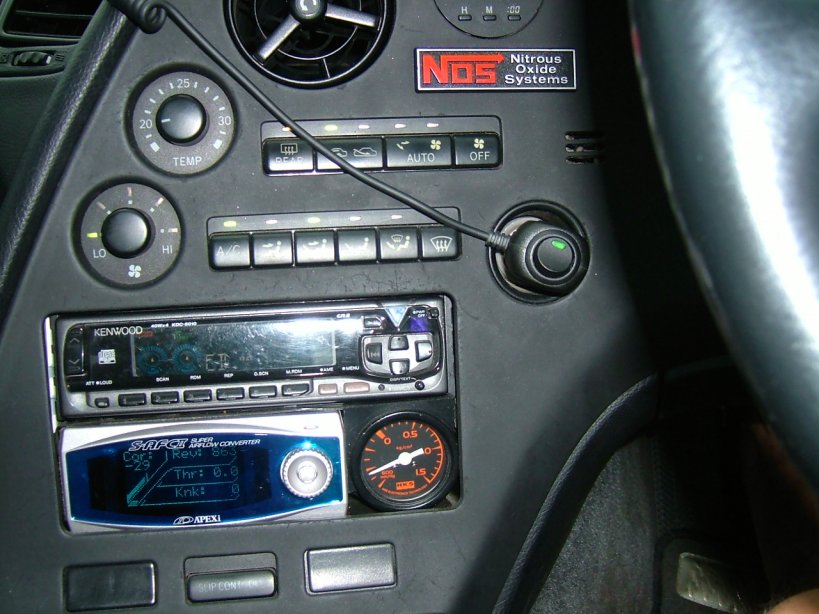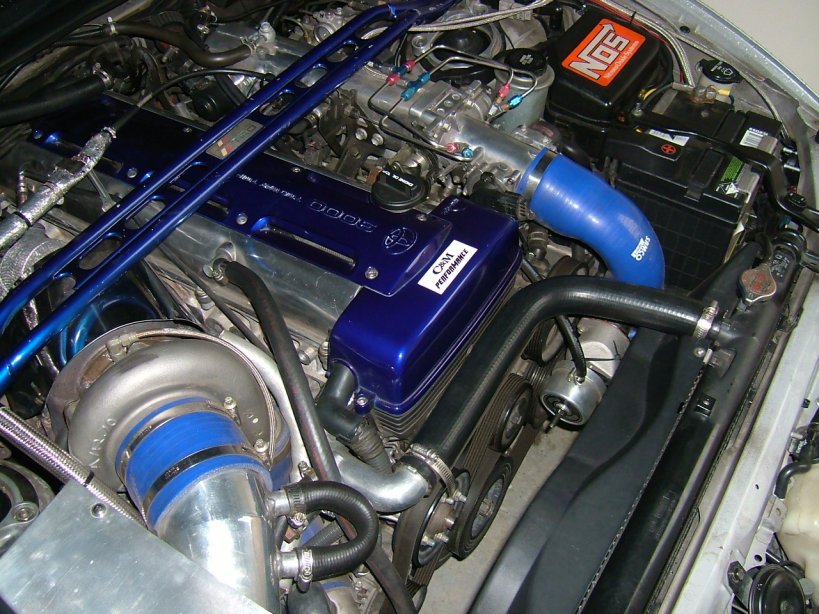 ---
Back to Home Page

Thanks for visiting mkiv.co.nz
Last modified on Wednesday August 10th, 2016