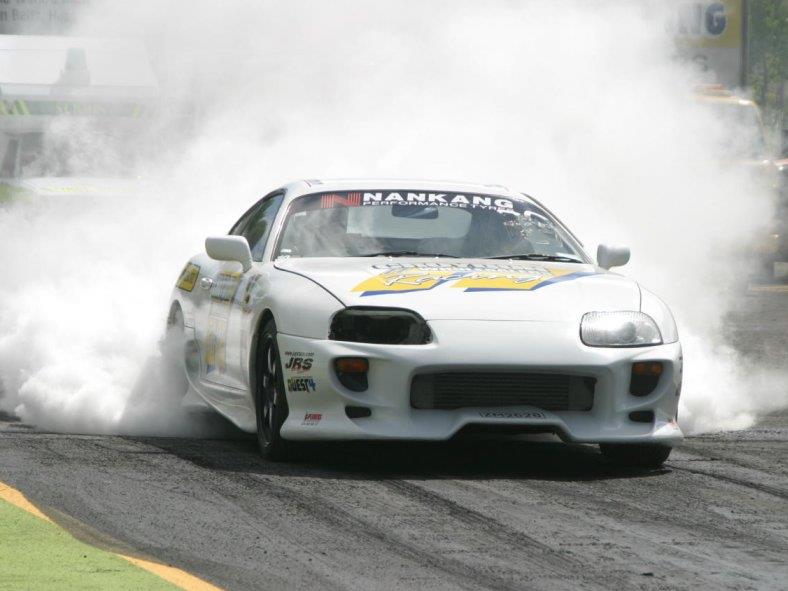 TOYOTA SUPRA RZ SPEC SHEET - Jan 2006
MAKE/MODEL:
1993 Toyota Supra RZ (JZA80) Twin-Turbo Street / Drag Car
ENGINE:
Toyota 2JZ-GTE 3-litre twin-cam 24-valve 6-Cylinder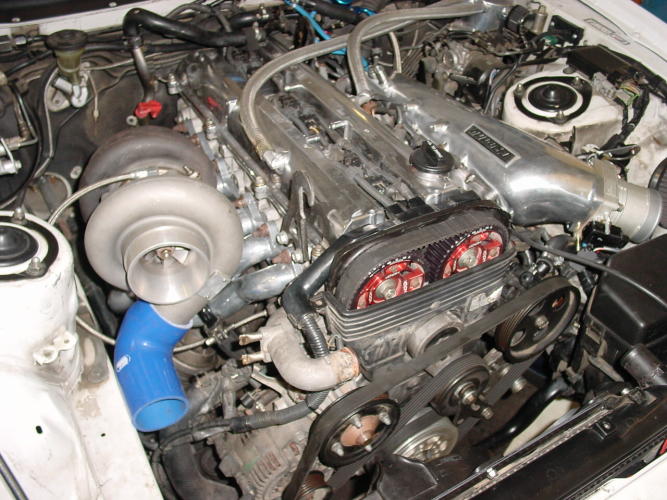 BLOCK INTERNAL SPEC:
Engine built by HAL (Henderson Automotive Limited) with 20 thous overbore.
JE forged pistons and ring kit.
Crower (Carillo) billet-forged rods
Standard freshened OEM crank and bearings.
Engine balanced and blueprinted.
Boostlogic billet-alloy harmonic balancer.
Main performance components sourced direct via internet from Crower in the USA and Boostlogic, Austin, Texas.
CYLINDER HEAD SPECS:
Cylinder head ported and polished, approx. 14% flow increase over standard.
Crower "Beast" Stage 3 cams- specs:
Inlet: 276 @ 228, exhaust 284 @ 236.
Crower single valve spring kit with titanium retainers.
Standard OEM head gasket.
Venom Racing adjustable cam vernier wheels.
INTAKE SYSTEM:
STR Fabrication stainless intake pipe from 40cm K&N filter mounted behind right headlight.
Headlight removed during racing for forced-air effect to filter.
Trust GReddy polished high-volume intake plenum chamber.
Infiniti 100mm Q45 throttle body and installation kit.
TURBO:
Genuine Trust T88-34D single turbo.
Boostlogic exhaust manifold, low-mount and match-ported to turbo housing.
Tial 46mm external wastegate, plumbed to vent via screamer pipe below driver's footwell.
Trust Type "R" blow-off valve.
Trust Drag-spec front-mount intercooler, STR Fabrications hard-pipe kit with Samco hose joints.
STR Fabrications custom 4"" downpipe from turbo to Quest-4 hand-made mandrel-bent exhaust system.
FUEL SYSTEM:
Bosch 040 in-tank pump drawing to feed Quest-4 custom stainless surge tank mounted in the bootwell.
SX1000 pump draws from surge-tank via SX in-line filter.
Quest-4 custom fuel cooling tank running ice around supply and return lines.
Braided lines throughout.
SX fuel-pressure regulator.
Fuel system 12-volted throughout.
1000cc top-feed injectors.
HKS alloy fuel rail.
Runs on 98 octane for street, standard pump race-grade AvGas for track, C16 fuel for high-performance runs.
NOS twin-nozzle fogger system with 25lb bottle, solenoid-activated to 14-15lb boost to spool up turbo while sitting on transbrake.
IGNITION SYSTEM:
Bosch individual coil packs mounted inside cabin.
High-performance leads to plugs.
Kenny Bell ignition amplifier.
EXHAUST SYSTEM:
Quest-4 hand-made mandrel-bent 3 1/2" exhaust in stainless throughout, no restrictor, one bullet-style muffler plus Q4 hand-made stainless big-bore muffler with 4" tip. Removable from end of 4" downpipe for outlaw drag racing.
COOLING:
Standard OEM radiator.
Yoda-built twin electric fans, independently switched, can use either one always on, one switched to run thermostatically, one to run A/C only, both on, or one on when engine turned off to fast cool-down.
No oil cooler used.
Factory fans removed.
ENGINE MANAGEMENT:
Link G2 Engine management computer.
Car re-loomed with Link loom throughout.
7.0-bar MAP sensor reconfigured from 3.0-bar.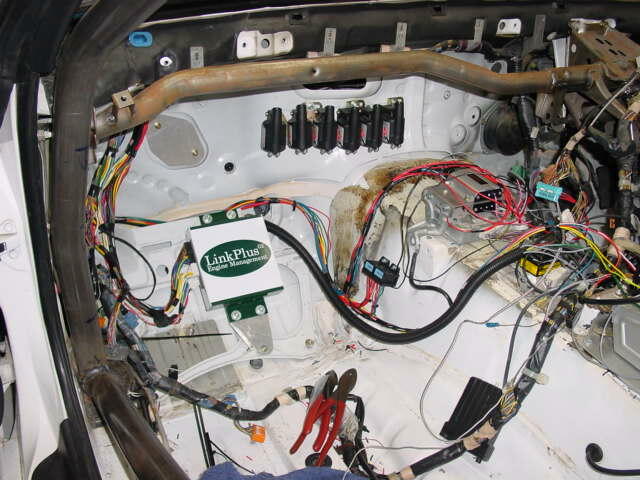 ELECTRONIC / MECH CONTROLLERS:
GReddy Profec-B boost controller, set to 1.9 bar boost.
HKS turbo-timer.
Custom line-lock kit to help start-line burnouts, locks off rear wheels only.
Factory speed-cut and boost-cut control removed.
ENGINE BAY:
All emission-control and unnecessary loom wiring removed.
OTHER:
Battery box re-located to left rear seat-well inside car, heavy-duty cabling and earthing.
I use Mobil-1 full synthetic oils, changed every 3 race meetings.
Penrite ATF high-temperature fluids.
GEARBOX:
Originally a factory automatic.
Full drag-spec TH400 GM manual-shift automatic built by the Gearbox Factory. Complete drag-spec hardened internals and clutch packs.
Manually shifted 3-speed reverse-pattern, lock-out on neutral to reverse.
SuperCar Tuning centre torque-converter set-up by Boostlogic, 3000rpm stall.
Manual trans-brake valve body, button on shifter console.
Boostlogic TH400 adaption kit to suit 2JZ-GTE.
High-volume oil pan.
Remote front-mounted transmission cooler.
B&M QuickShifter ratchet-action pull shifter.
STR Fabrications hand-made flex-plate shield.
FLYWHEEL / CLUTCH:
Lightened flywheel by Precision Engineering.
DIFFERENTIAL:
Supra 3.7 ratio diff casing and crownwheel.
Cusco 1.5-way LSD centre.
OTHER:
Driveshaft built and balanced by Whibus Engineering.
Double driveshaft loops.
Factory OEM half-shafts.
SHOCKS:
Originally equipped with factory Bilstein suspension.
Pedders Suspension-built custom front and rear shocks.
Specification of front and rear on a need-to-know basis!
SPRINGS: OTHERS:
Hard-blocked diff housing by Quest-4.
BRAKES:
Front - Standard Supra 16" alloy rotors and callipers.
Rear - Standard OEM Supra
Brake pad compound by Race Brakes
WHEELS:
For street: Volk Racing Midnight Blue 18" lightweight alloys.
For drag: Rears are ex-300ZX lightweight 16".
For burnouts: Rears are Ray's Engineering 17" alloys.
TYRES:
For street: Rears are GoodYear Eagle F1 265/35/18.
Fronts are Fulda Carat Extremo 225/40/18.
For drags: Rears are Mickey Thompson ET Streets (11.5" wide x 26" high).
BODYKIT:
VeilSide (copy) front spoiler kit with mesh grille insert.
VeilSide (genuine) side-skirts, both fitted by Quentin at Woodger Panel and Paint. Side-skirts repaired by Rhys @ Fryline.
TRD rear wheelarch skirts.
Rear spoiler removed to assist in reducing drag.
Rear spoiler for street is Veilside C1 kit.
Bonnet raised on hinges to help increase engine bay air through-flow.
PANEL AND PAINT:
Largely stock original Toyota white. Some paint repairs etc but no custom paint job planned.
GRAPHICS:
Assorted sponsorship graphics on car.
Windows tinted.
No extra lights.
SEATS:
Racetech 4000W lightweight race seats fitted in blue with grey suede bolsters.
Adjustable frames made by Quest-4.
Seat height lowered approx. 2 inches from OEM.
Rear seat removed altogether.
STEERING WHEEL & GEAR KNOB:
Factory Supra OEM steering wheel.
GAUGES / METERS:
Currently using factory tacho to 8000rpm limit.
Centre-console mounted:
GReddy boost gauge with memory and re-set functions.
GReddy exhaust temperature gauge.
Factory speedo installed, off the clock on the drag strip!
ELECTRONIC DEVICES / CONTROLLERS:
Trust Profec-B boost controller.
Trust Profec-B remote boost controller switch mounted on steering wheel, to shift boost from high to low under traction loss.
HKS turbo-timer.
Line-lock button mounted on shifter lever.
Electronic speedometer adaptor and control unit.
OTHER:
STR Fabrications hand-made full chrome-moly rollcage built to 8.99-ET NZDRA specs.
All interior carpet, trims and underseal removed.
Door trims, handles etc and electric windows still in-place and operational.
Dashboard left-side glovebox and compartments removed.
All fan units and plumbing removed with exception of demister.
ICE / AUDIO:
800hp of Supra scream upfront, external wastegate venting by feet.
DYNO POWER:
T66 Hybrid - 485 rwkW at the rear wheels, Torque Performance, February 2004.
T88-34D - 530.2 rwkw, Torque Performance March 2nd 2006.
Boosting at 1.9 bar to 8000rpm.
All dynotuning performed by Robin Van Velden at Torque Performance.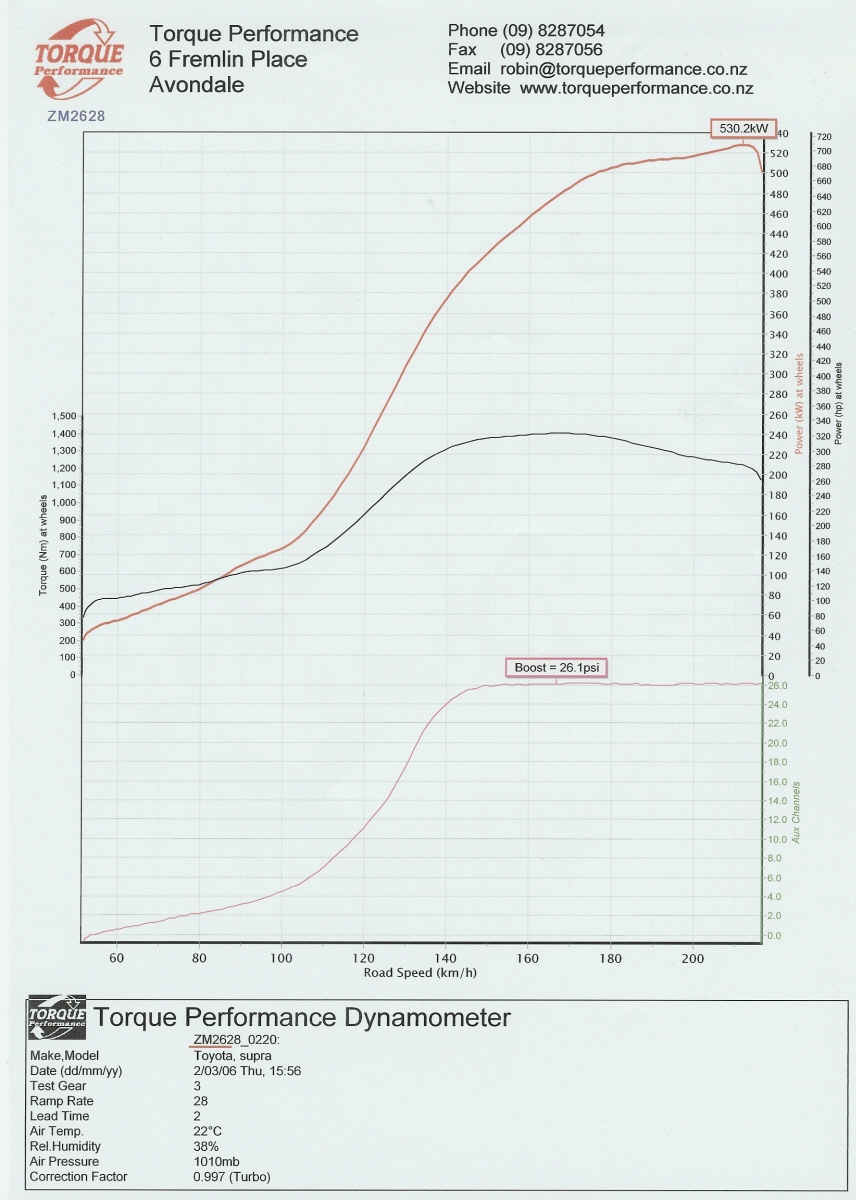 0 - 400m:
Champion Dragway, Meremere, 25th March 2006
1/4 mile ET - 9.598 @ 225.84kph (140.33mph)
1/8th mile - 6.226 @ 184.03kph (114.35mph)
1.558 second 60ft time.





OTHER:
Car has been in the build since sourcing it from Japan in 2000. Originally I used it as a daily driver, although it is still fully street-legal I tend to only drive it now during the weekend or to race events. It is not a trailer-queen! I drive down to the NSDW events at Champion, put my drag tyres on, go racing, pull the tyres off, and drive back home again.
Car is fully NZDRA tech-inspected to run to an 8.99-second ET. Mandatory full cage, external electrical circuit on-off switch, flex-plate protection, fuel cell blanking, driveshaft hoops, battery security, full two-layer suit, boots, gloves and helmet headsock.
Fully street-legal with Low Volume Modification Certificate issued January 2006.



PERSONAL INFORMATION:


NAME:
Graeme Macdonald.
Age - 38.
Mobile; 027-272-9388, daytime at Croydons 836-8314.
E-mail graeme@croydons.co.nz
OCCUPATION:
Dealership Manager / Director, Croydon Wholesalers in Central Park Drive, Henderson.
CURRENTLY-OWNED CARS:
Supra.
1997 Toyota Aristo V300 Vertex 3.0 Twin-Turbo on Ray's 18"s.
1973 Triumph TR6 Convertible, original NZ-RHD with 150bhp.
1961 Plymouth Fury 2-Door Hardtop 318 factory-optioned car
BUILD TIME:
Bought in August 2000 from auction in Japan. Owned ever since.
THIS CAR'S HISTORY:
It must have been a fairly quick car in Japan, although most of the mods appeared to have been removed prior to auction. When we bought it, it still had the Trust drag-spec FMIC, a Blitz ECU with aggressive ignition curve, big-bore exhaust (totally trashed!), damaged Rays Engineering 17" alloys, and boost gauges etc.
OTHER INTERESTS:
Anything to do with cars, really- I like (and will own again!) classic American iron from 1958-1961, especially '59 Chevs, '58, '60 and '61 Plymouths, '59 Caddies…
Early Japanese performance cars- would like to own a mint RX3 Coupe, a 240 or 260Z, an early Skyline / 240K, or early Cosmo from the 60's.
Import drag racing, big-rig drag racing (in the States!), rally, JTCC, BTCC etc.
Really interested in drift racing, maybe something to try next?
Other than cars….
Road culture- Route 66- have travelled Route 66 seven times since 1994.
American pop culture.
Heavy equipment (I used to be an industrial auctioneer with Turners)
Stormchasing- annual expeditions to the Plains of the USA to chase supercell storms and (hopefully) tornados, plus baseball-size hail, extreme lightning, straight-line winds etc.
Photography- keen amateur.
Model-building- no, really!
PEOPLE TO THANK:
Joe "Yoda" Kyle, Joe's Mechanical Services.
Steve Murch, Motorsport Engineering.
Adrian and crew, The Gearbox Factory (Henderson)
Robin Van Velden at Torque Performance.
Shane Turner, STR Fabrications Henderson
Henderson Automotive Limited.
The staff and crew at Croydon Wholesalers