Sunday morning dawned (not that I was up to see it) with lots of dark clouds and showers, but it was supposed to clear up later, so I was hopeful for a good turnout. The car park at Mission Bay was only half full when I got there (with no sign of any other Supras), thanks to lots of ominous looking clouds and the occasional rain shower. Seems I could have skipped washing the car after all.
While waiting for the others to turn up, I thought I'd take the first picture of my car, (Kevin's Red TT 6 speed running 21psi boost and with 220kw at rear wheels) since the accident at Pukekohe racetrack. It's looking better then ever, thanks to a complete new paint job, which was a rather expensive paint job, totaling about NZ $10,000.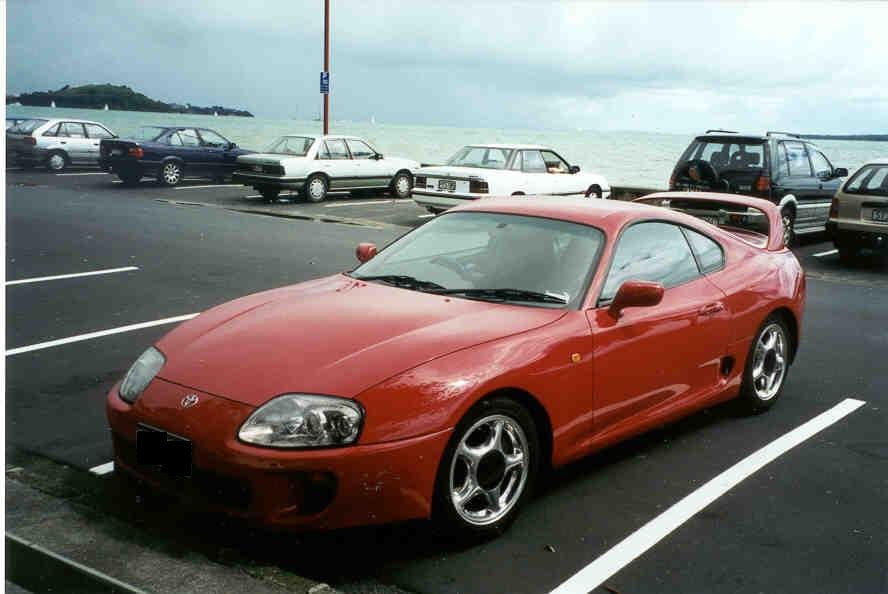 The TRD strut brace was put to good use in the accident by keeping the front end solid which helped reduce the damage suffered. You can see the hose from the two into one air pipe to the intercooler which is used for the pressure switch (kicks in at 7 lb's) to control the water injection. The water is injected through the yellow hose into the intake pipe before the turbos.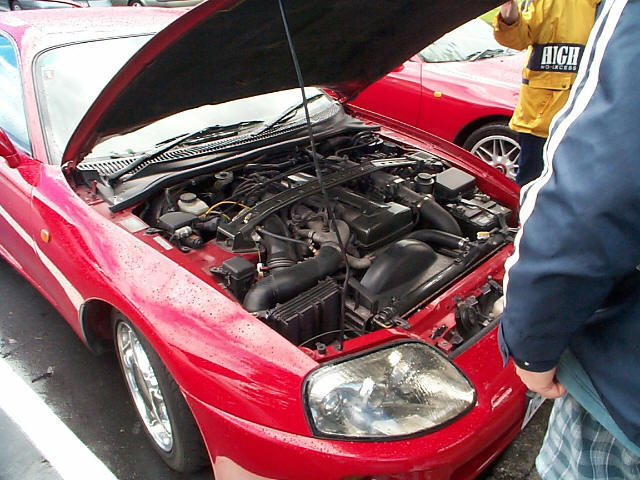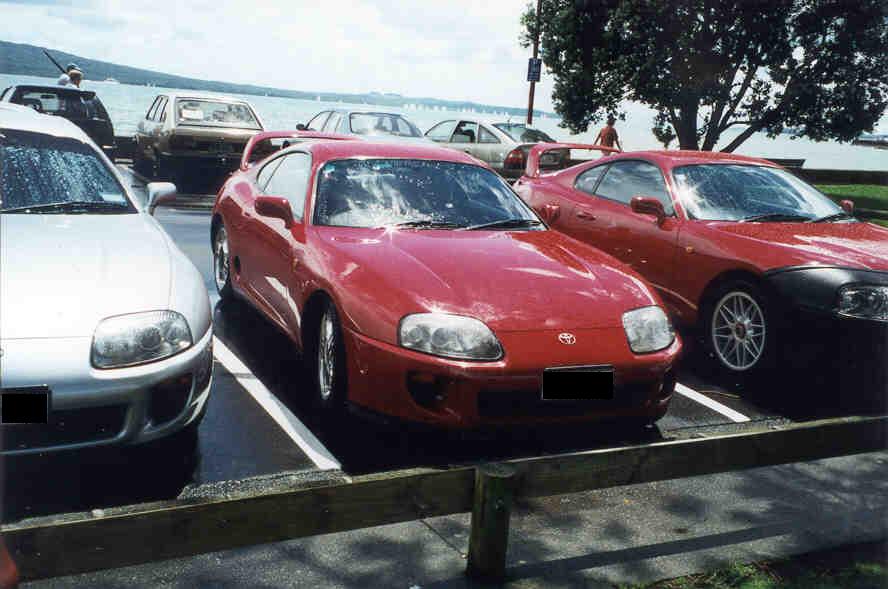 Graham was the next person to arrive with his Silver TT 6 speed. Its used as a showcar for the alarms and stereo gear he sells. Its got 18" wheels with Bridgestone SO2 tyres of 265/40-18 on the rear and 235/45-18 on the front. Its got one of the talking alarms (pretty nifty) with all the bells and whistles (mates rates if you want one), which should make it bloody hard for anyone to nick his car. Graham has previously owned both a mkii and a mkiii Supra, and now has a good looking mkiv.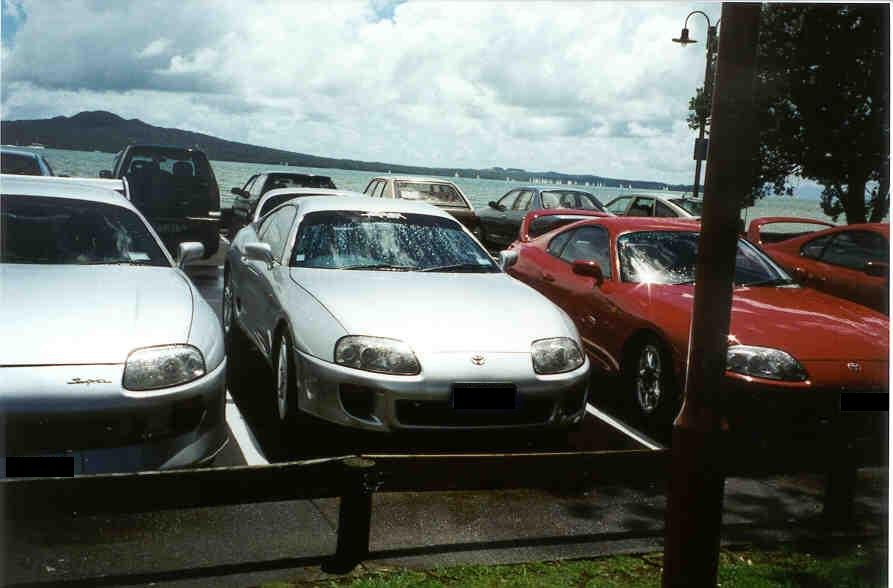 The stereo has a direct feed from the battery (red cable) to ensure there's plenty of power to run those amps.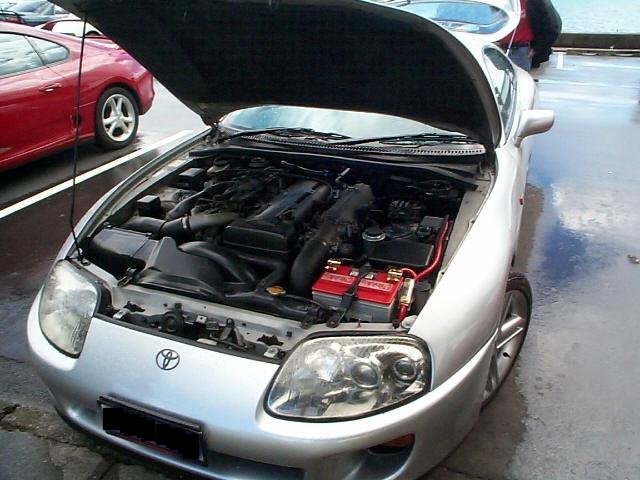 Graham and myself checking out his sound system with Brad (background right) and his wife (background left) in the background. Two 10 inch subs in the boot and two 300w amplifiers to run the sounds.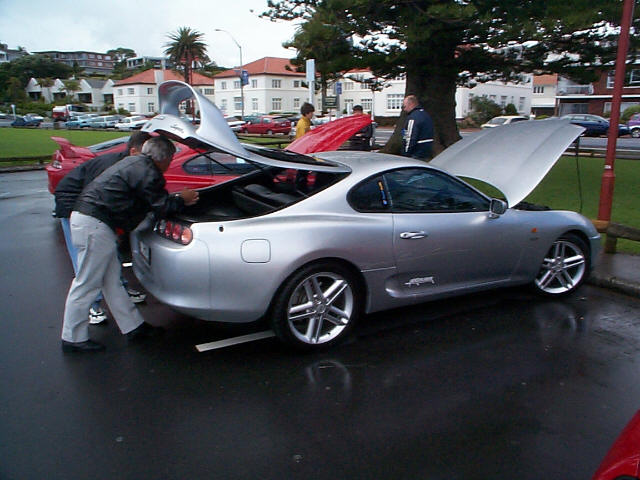 Chris turned up soon after Graham with his Red TT Auto which is fairly standard so far, except for 17" wheels and large exhaust system. Alot of these pics are from his digital camera, so thanks to Chris for those, especially the ones of the Supra's out cruisin together. We sure turned alot of heads when we had 5 mkiv's cruisin along the waterfront.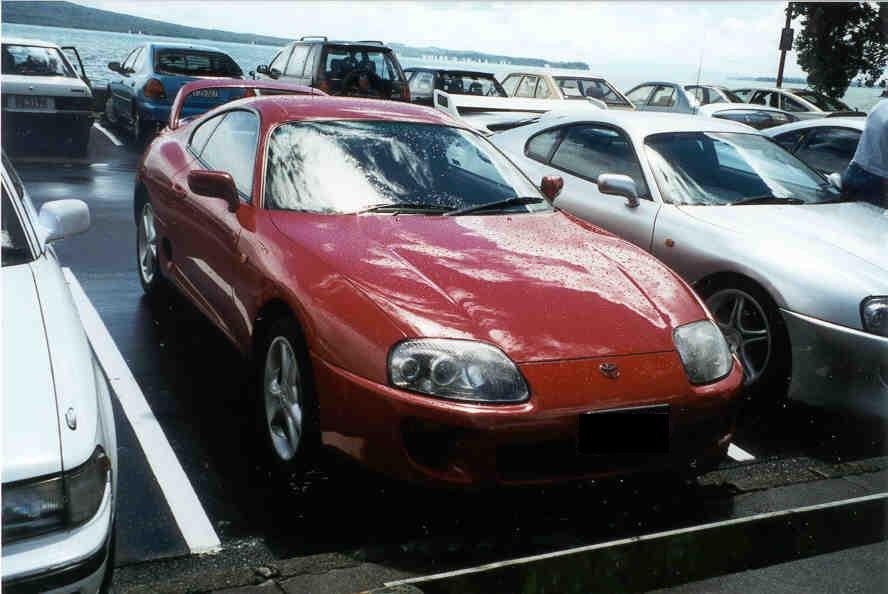 Dallas arrived next with his wicked looking Silver 6 speed TT. Its got a Veilside tail, side skirts and an unknown aftermarket front spoiler, a huge front intercooler and is running around 1 bar of boost. It had 211kw at the rear wheels on 0.85 bar boost at a recent Performance Car Dyno Day.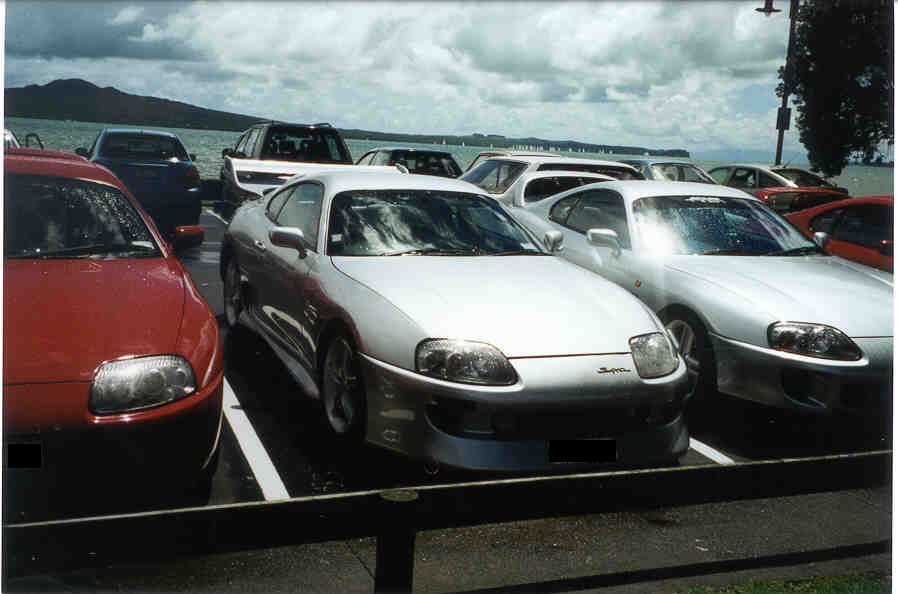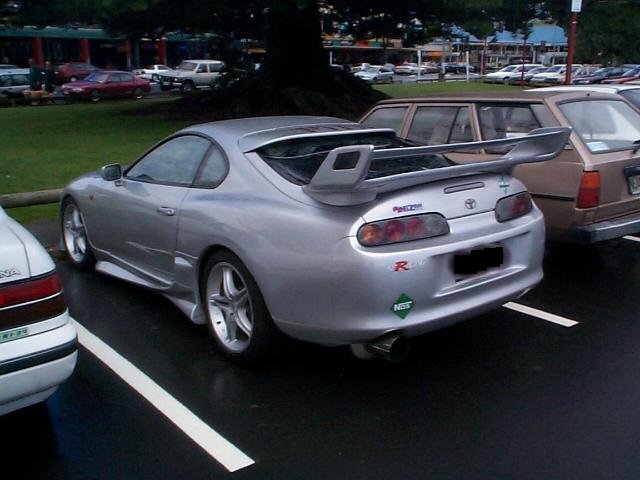 Oh, and I forgot to mention, its also got a 4" exhaust sytem and monster muffler to give the right sort of sounds. Who needs a stereo anyway!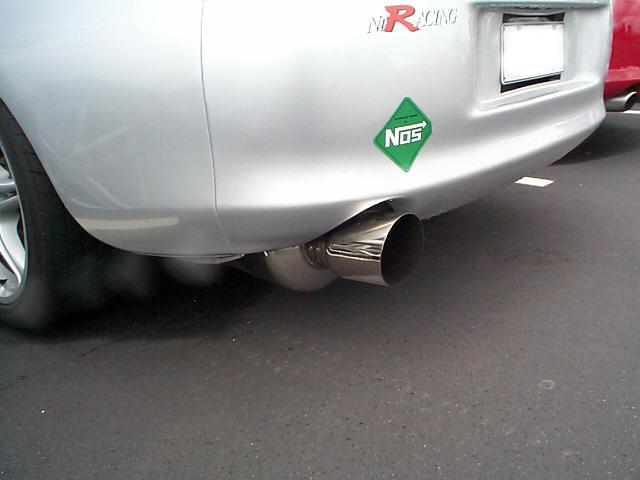 Brad cruised in next with his standard Red 5 speed NA (not for long by the way he was talking about superchargers) with the black bonnet bra to avoid those inevitable stone chips you get on the low front bumper and bonnet.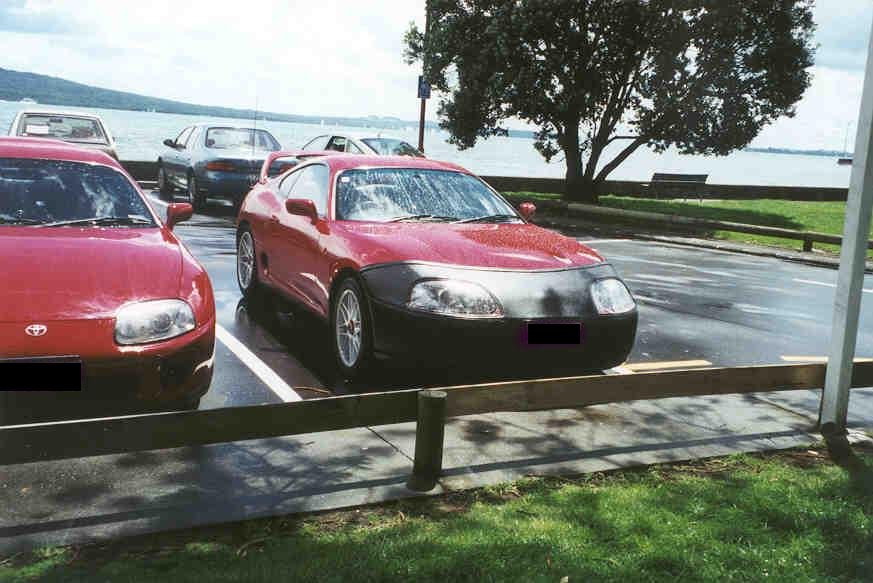 And about 1/2 hour later (we had just about given up on him) Shamil (pictured below) arrived with his Silver 5 speed NA, which also has Veilside side skirts and an excellent looking aftermarket front spoiler and 18" wheels.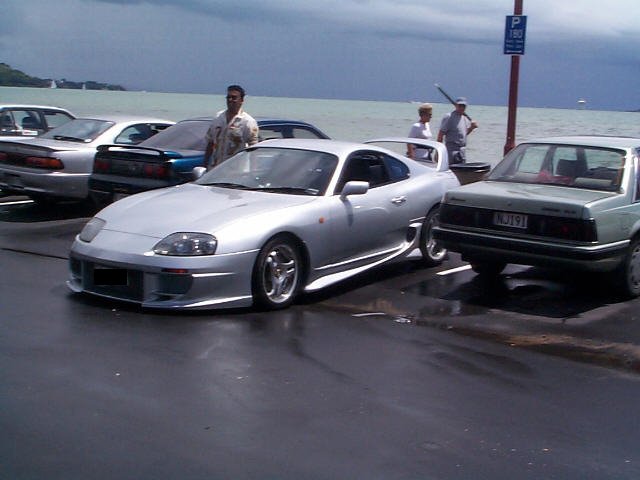 We were so busy taking pictures of the cars, we didn't take any deliberate pictures of the owners. In this pic at the front from left to right, we have Graham, Dallas (obviously hiding from the camera), Kevin, Dallas's girlfriend, and in the background left, a mate of Shamil's with Shamil in the background right of the picture.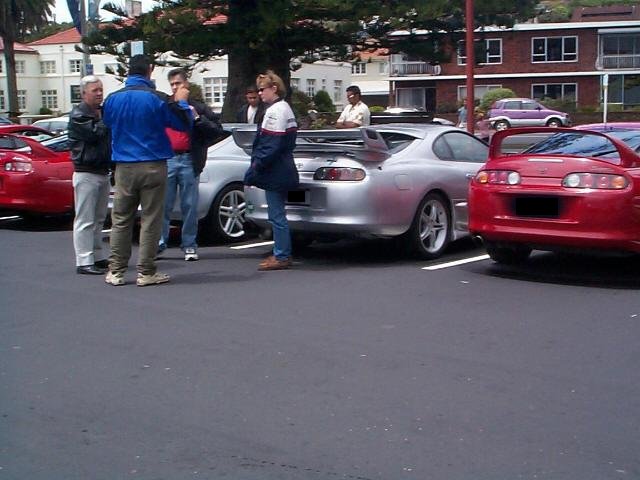 We all chatted about our cars for awhile and then it started to absolutely piss down with rain, so we decided it was a good time to break for lunch. Mission Bay is a beautiful seaside suburb of Auckland, and is usually packed with people on a Sunday, but thanks to the rain we were able to find an great cafe opposite the carpark where we all had brunch. Unfortunately Shamil had to go at this point (something about a friends car being broken into), so we were down to five mkiv's.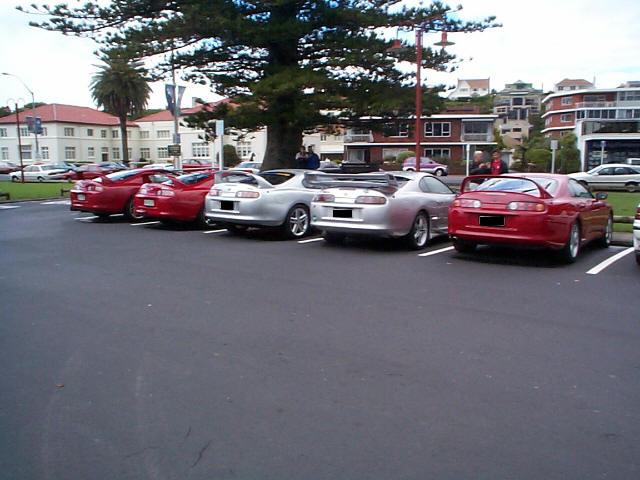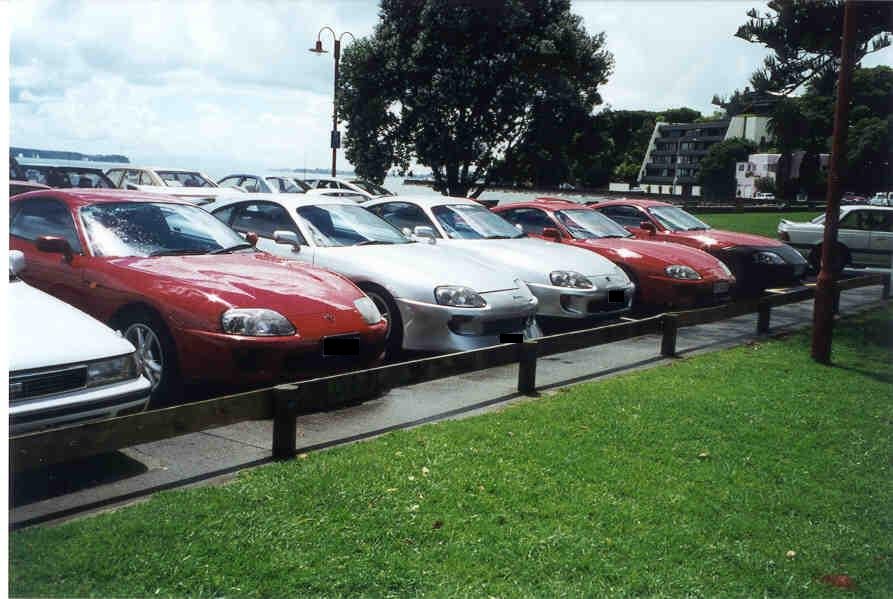 After an excellent lunch we decided to cruise along the waterfront out away from the city center for a couple of miles and then cruise back through Mission Bay and back into town. Chris was the last car in the convoy and he had great fun taking all these cruisin pics these while trying to drive at the same time. He also noted that the mkiv convey turned alot of heads as we drove around the waterfront.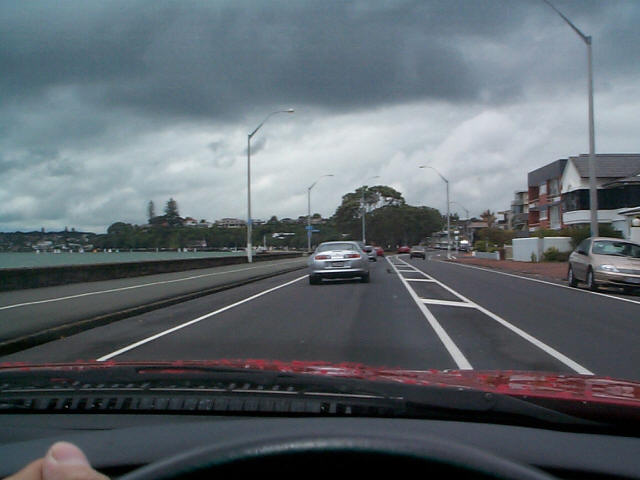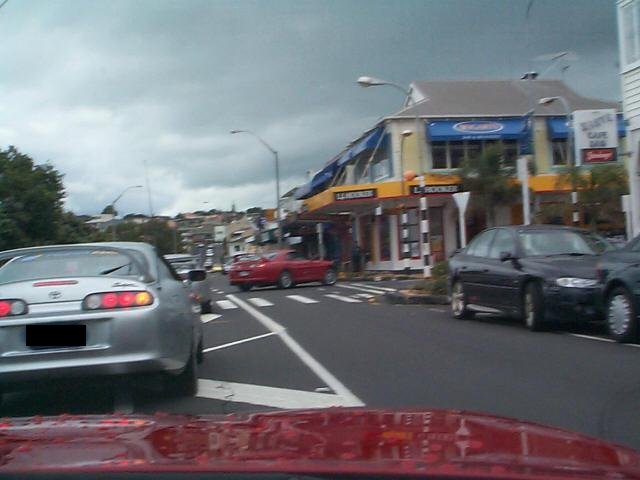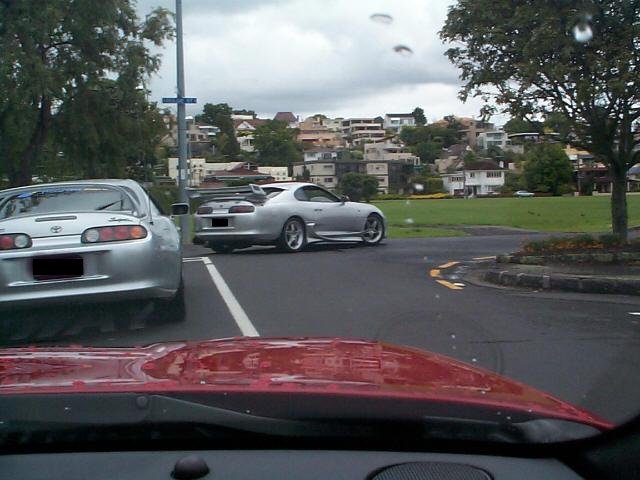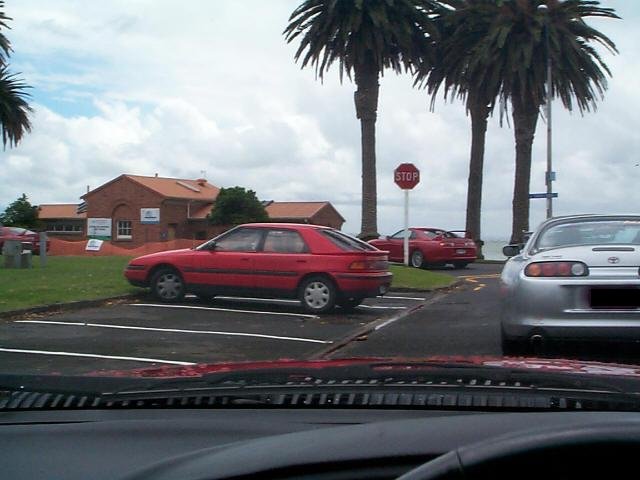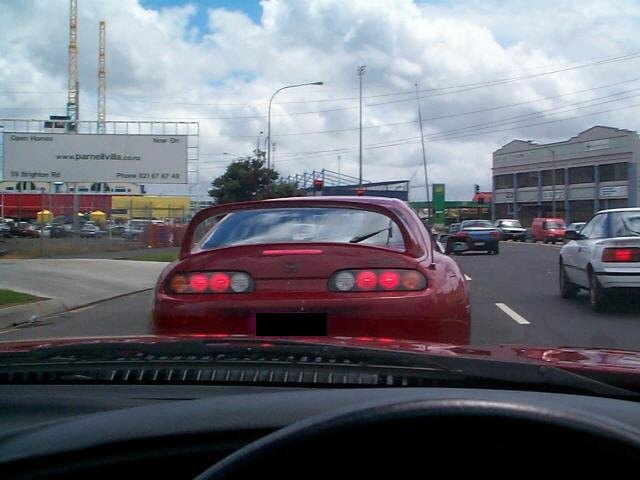 We then got stuck in a traffic jam, because of the Farmers Xmas Parade (we had discussed joining the end of the parade - in jest), but we managed to bypass the Parade traffic (thanks to Dallas who is a courier and knows all the shortcuts) and speed on to the motorway to go back to my place on the North Shore.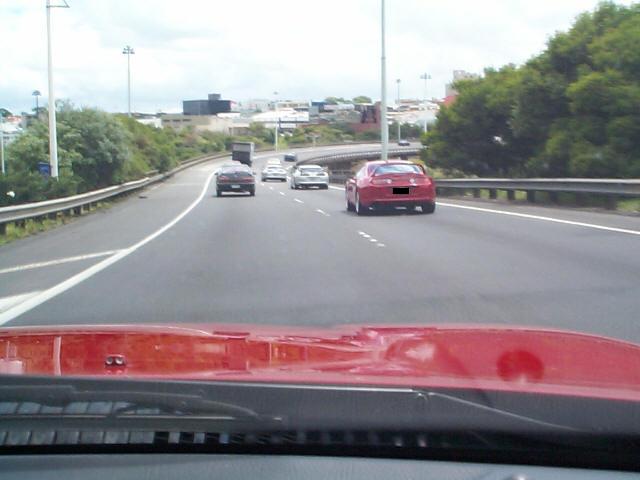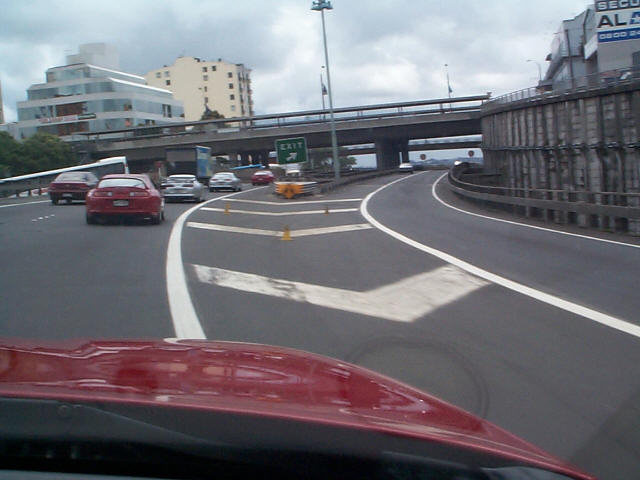 Back at my place, I showed everyone the Black Supra (pics coming later on) that I am dismantling. I am using the front and rear suspension subframes, the steering, ABS, fuel tank and misc other parts in my fiberglass sportscar (now to be my hybrid Supra racecar) that I designed and started building about 15 years ago (no, this is not a typo). Amazingly, it is a perfect fit for all the Supra suspension/steering parts, being the same width and height and with only about 1 1/2" shorter wheelbase and an overall body length shorter by about 45cm. It should come in under 1000 kg and will be powered by a Toyota straight 6, either the Lexus/Soarer/Supra mkiii 2.5TT (280hp) or the Lexus/Soarer/Supra mkiv 3.0 NA (220hp). The NA takes to turboing very well, so 500hp is within reach if I want to turbo it later on.