Toyota Supra
Brock emerges from his encounter with Toyota's super Supra wearing a broad smile and eager to talk. "That's a very, very quick car, I'll tell you.!"
Quick certainly, but not that fast. The twin turbocharged 3.0 litre straight six-engined coupe has clocked 247km/h, a number higher than everything except those darned Porsches.
The UK specification car is electronically restricted to 250 km/h at 5500 rpm in sixth, very close to it's 5600 maximum power point, through redline is 6800. The limiter in this particular car's case intervenes a fraction on the low side. Without it? A little beyond 270 km/h is the whisper.
The big Toyota coupe hits its artificial maximum without the slightest fuss. "Very stable, very easy to drive - and has it got some mumbo!" says Brock.
Just how much mumbo became evident soon after the Correvit timing gear was attached to the Supra's flanks. It was the second qiuckest to 100 km/h and 400 metre benchmarks from a standing start. Only the feral and featherweight Caterham Super 7 JPE is quicker.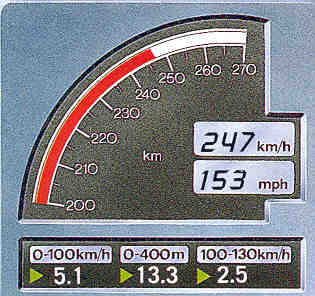 The Supra's launch performance is mighty impressive, but blasting from a standing start isn't really its strong suit. Not with a kerb weight on the wrong side of 1500 kg. It's substantial stomp is displayed to greatest advantage by flooring the throttle with the Supra already in motion. Between 80 and 130 km/h in third gear, its pair of turbos spinning hard, nothing else comes even close.
And its more than a straight-line speedster too. "I'm staggered", admits Brock, still aglow after his laps on the banking. "I expected a big, soft, powerful wallowy Japanese machine. And it's not that at all. It's a real supercar, that's what it is." Hot-lapping Lang Lang's handling loop - an evil succession of unsettling corners - doesn't diminish his respect for the big Japanese coupe.
"Obviously a big car, heavy car. You can feel the weight as you turn into a corner but, gee, it's still agile. "Turn in, trace of understeer. And you absolutely hook it, just a trace of oversteer on the exits. But nothing dramatic at all. And quick!"