One result of New Zealand being such a small car market is that when niche models are released here they are usually top spec versions, loaded with every gadget the motoring industry's product planners can devise, and are priced accordingly.
This was the case with Toyota's spectacular latest model Supra sports car, which was released here with the full top-of-the-line twin turbo engine and now costing an equally spectacular NZ$165,000.
At such a price it was not surprising that the tiny sports car market saw only limited numbers appearing on our roads. More recently, though, the importers of used vehicles from Japan have been bringing in a few of the firebreathing topline models at relatively low kays and dealers have been retailing them in the NZ$60,000 to NZ$70,000 range.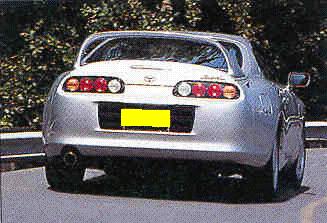 They have also imported some of the non turboed Supras, and it was a four speed automatic version in eye-catching silver which New Zealand Car was recently able to sample for a few days, courtesy of Autolink Imports Ltd, of Auckland.
This version has the same basic three-litre straight six unit producing a relatively modest 168 kW at 5600 rpm as powers the lexus GS300 sedan, a competitor in many overseas markets in the BMW 5 Series sector.
Relatively modest, of course, against the 243 kW of the twin turbo model, but still enough to give the sleek Supra a healthy shove in the direction of the horizon whenever called upon. But, interestingly, this slightly down - market version - in Japan it retails new for 3,150,000 yen, or $NZ43,150 against, 4,579,000 yen, $NZ62,726, for the turbo's equivalent auto version - has a boulevard cruising character.
Its smooth four-speed auto seems to encourage a leisurely progress where, instead of concentrating hard on the road at extremely high speeds, it seems more appropriate to take the odd glance away to admire the Supra's reflection in shop windows. In casting a glance in the direction of this car, you are simply joining the many who find it almost impossible not to gaze at it with an expression which, if I'm not mistaken, sometimes borders periously close on lust.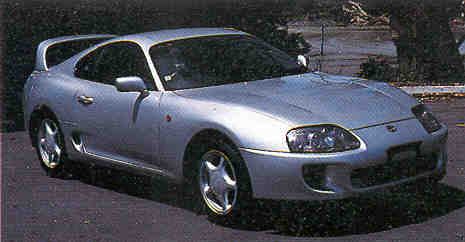 There's certainly no doubting the street appeal of this Supra. Its extravagant rear wing seems more appropriate to a fighter aircraft than a car. Meanwhile the body, long, low, wide, and as deliciously curved as any menopausal male's fantasy, sometimes arouses the emotions of footpath admirers to the point of letting their hands wander over its feline flanks.
Enough ... whatever the view from the roadside, performance on the road is what it's all about. And however, wild the looks of the Supra, it's tame enough at normal revs for grandma to feel comfortable with.
Of course, that is, if she can see out. You do seem to sit extra low in this sports car, very much enclosed, as if in the cockpit of an aircraft. The overwhelming black of the trim adds to this sense of enclosure. Whether it makes you feel comfy or confined depends on the individuals degree of agoraphobia.
The styling also has its penalties, with the bonnet dipping out of sight and making necessary a cautious approach to close quarters parking.
Although the rear vision is not badly affected by the big wing its presence does have a somewhat unnerving effect when considering lane changes on the motorway. At these times a quick glance over your left shoulder to make sure your wing mirror hasn't left a stray vehicle in your blind spot, unnervingly picks up the side of the wing as potentially just such a vehicle.
This 1994 model Supra has only some 10,000 kilometres on the odometer and overall condition is close enough to new as to make no difference.
One obvious difference, though, from the normal export Supra, is that over New Zealand's coarse chip road surfacing, it becomes quickly obvious from the rattle of small stones under the car that under body protection such as we are used to has not been used.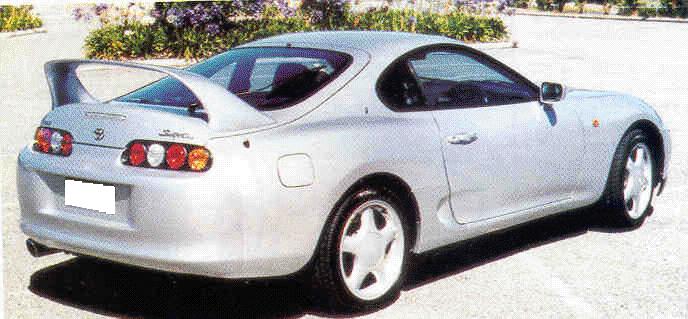 It gives the car a cheapish feel which any new owner would probably feel warranted a quick visit to his friendly neighbourhood specialist undersealer. These are mere quibbles, though, in relation to the appeal of a vehicle which in the New Zealand market should retail for under $60,000.
The straight line performance is more than adequate for local road conditions, and although the 290 Nm of torque available at 4800 rpm is well short of the turbo's mighty 440 Nm, there's never any feeling of any lack of twisting power.
And a hearty shove on the throttle sees the so smooth six singing around to the red line in suitably eager fashion. Ride is firmish at low speed, sometimes jittery over Aucklands urban road imperfections, but well controlled and nicely stable in higher speed cornering. The steering, if still a little lacking in feel, is direct.
Which to buy, the Supra turbo or the normal aspirated version? The head says the non-turbo, which is cheaper, has none of the down the line potential for problems any turbo car must present, and remains a real headtuner.
But the heart says, go for the turbo. it has the real punch to match its wild looks, even if the Japanese domestic models are artificially limited to 211 kW and 420 Nm to meet a Japanese Transport Ministry directive.
And the particular model which would really encourage one to sing down the highways; the six-speed manual.