750hp Supra Blitzes London
London is the last place you'd expect to drive a 200mph racing car - unless you're a self confessed Max hooligan like Dave Clark.
He looks across the city from Westminister Bridge, unfazed but slightly bewildered by the prospect. He's attacked Germany's lethal 14-mile Nurburgring circuit in this car, hit blind crests at 170mph with no idea where the road goes, he's even had all 4 Blitz split-rims off the ground at 120mph, but never has he attempted London's hostile rush hour in the pissing rain.
"This is going to be fun", he says, before proceeding to do a burnout. Not a mildly-squeaky chirrup of a burnout, however, but a kingsize thundering tornado of a tyre smoke and pant fumes ... in the goddam bus lane!
People stumble past in shock, not sure whether to applaud of call the Police. We've just interrupted their long and lonely trek home by making the bridge shake beneath their feet. He's right, this is going to be fun. We've got 750 horses of the Blitz racing Cavalry to play with all bloody night...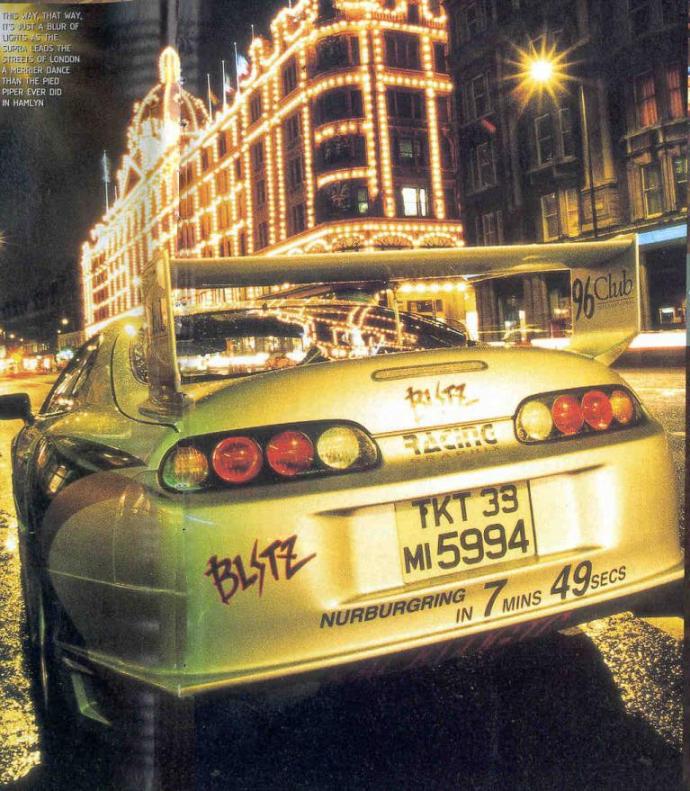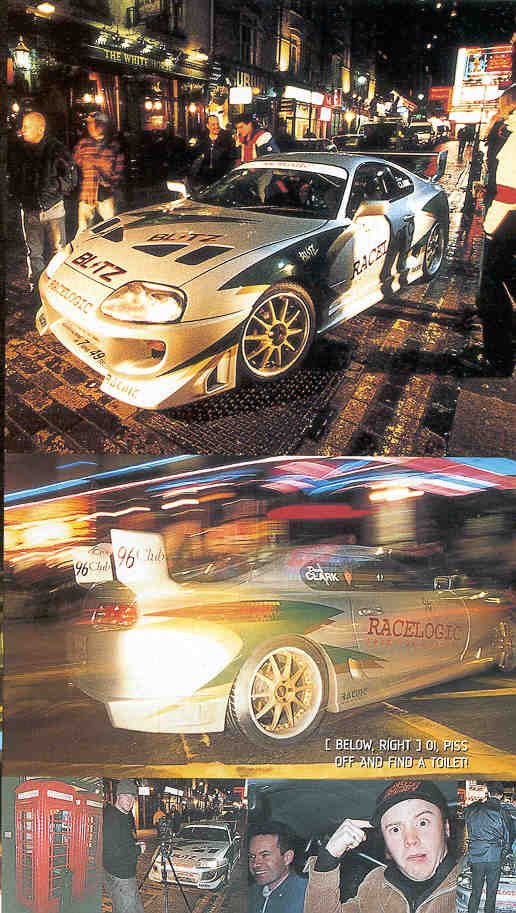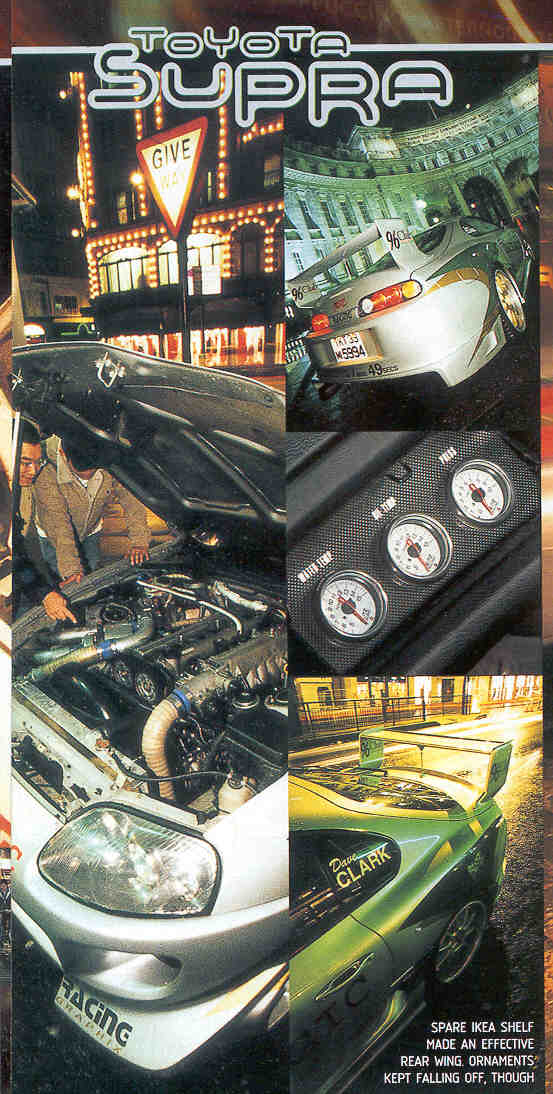 Get in the Ring
Fears put aside for the moment, we follow Fly's Mondeo towards Soho. Diving between the Black cabs and wandering Red buses, Dave starts chatting about the Supra's fearsome record-breaking laps around the infamous Nurburgring.
"At the Ring, some corners are hidden behind blind crests. many are fast, which is okay if you're doing 160mph, but others are hairpins - then you're screwed. There's one where I had to pitch the car sideways at 120mph before the crest, so it was pointing in the right direction of the corner when it landed."
It seems a world away from the dank evening in London, but a world away isn't far when you're doing 200mph. The traffic towards Soho's centre clams up like, well, a prositude's clam when faced with a skint punter. It's all pretty chilled inside the Supra. The engine is suprisingly quiet a low revs and the only noise is the "tap-tap-tap" of the fule pumps working away behind us.
It doesn't feel like a 750hp road-racer until Dave dumps the clutch for another burnout, this time in front of a bunch of French schoolkids. Lowering the lightweight side glass allows us to hear as well as see their jaws drop.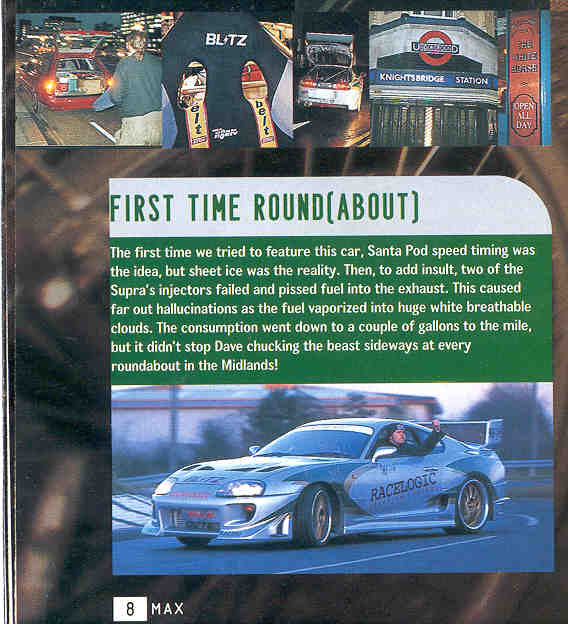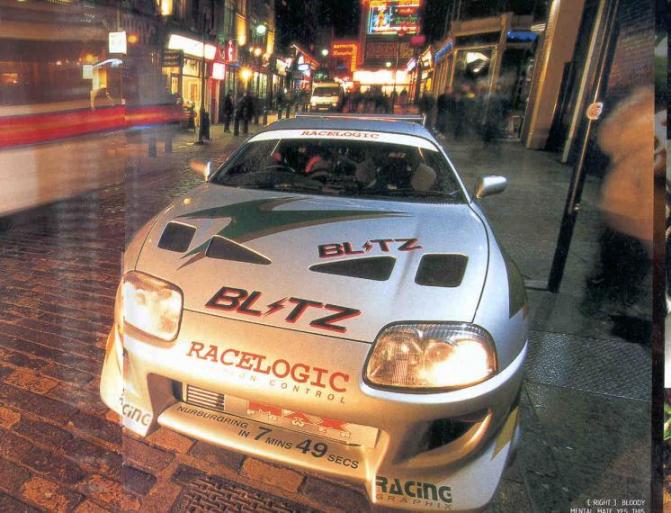 They follow until just outside Paul Raymond's Revue Bar, a world famous grot palace. In five minutes, Dave has signed autographs for Americans, allowed Turkish, Italian, Spanish tourists to sit in the car and been told to "naff off, this is my patch" by a gorgeous prostitute. Just as we're scratching around for a tenner, Dave says: "I've not been asked for my autograph since I acted in films as a kid". Is there no end to this man's awesome talents?
Two policemen turn up. We quickly hide the tenner. One cop could easily touch the moon, the other can just about reach the door handle. Tall cop loves the car and doesn't give a toss that we're parked illegally. Small cop is suspicious. Small cop's oversized helmet slips down over his eyes, when he looks up to argue with the tall cop. He walks off humilated as Dave explains to the tall cop how the car will do 200mph, "though I wouldn't attempt it on the Queens Highway, officer". Yeah, right ...!
As the Soho crowd moves aside and allow us to leave, a tramp offers us one of his treasured cans of Super T. We try to explain that we've got enough petrol, but he doesn't understand. He doesn't understand why he's just fallen over either.
The first time we tried to feature this car, Santa Pod speed timing was the idea, but sheet ice was the reality. Then, to add insult, two of the Supra's injectors failed and pissed fuel into the exhaust. This caused far out hallicinations as the fuel vaporised into huge white breathable clouds. The consumption went down to a couple of gallons to the mile, but it didn't stop Dave chucking the beast sideways at every roundabout in the Midlands!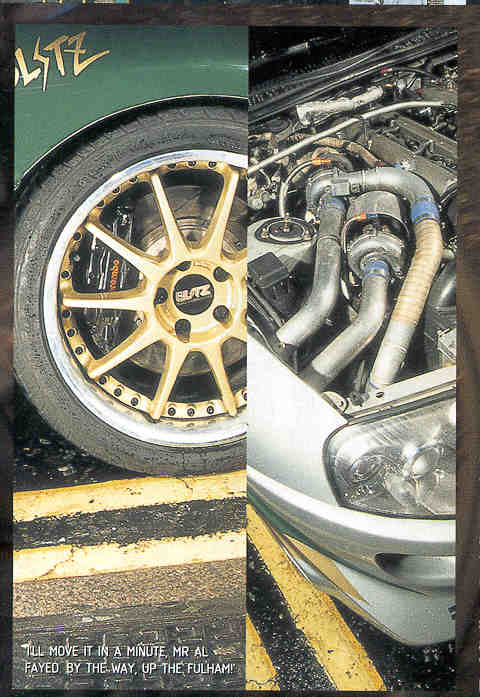 Its like a war has just broken out under the bonnet
The neon-nirvana of Piccadilly Circus is next up. Dave issues the Supra a challange. He asks it to take half throttle in second gear at low boost(540hp). The car fails spectacularly. Its rear tyres spin up, whizzing away like demented fireworks while the wastegates sound like semi-automatic blow-pipes.

But still, somehow, were flying up the road at a lunatic pace. Then sideways into Trafalgar Square and sideways up Charing Cross road and sideways back to Piccadilly Circus. "None of this would happen with the traction control switched on", he says. So on it goes and the car fires its way round London like a supersonic pinball. It sounds like one too. The system works on the ignition, so its effectively misfiring until it senses grip through the cars ABS system. But from where were sitting, its more like a war has broken out under the bonnet.

As we leave, a sense of shame overcomes us. We expected hostility towards us and the car from London folk, but received none. "If this was a Porsche, their reaction would be different", says Dave. He's right. The Supra is not instantly recognisable and therefore doesn't bring with it any preconceptions. As far as the people of the capital were concerned, the Supra was not so much a car, more of an event which brightened up their Thursday night.

As far as we were concerned, this was the most mental car and driver combo London's ever seen.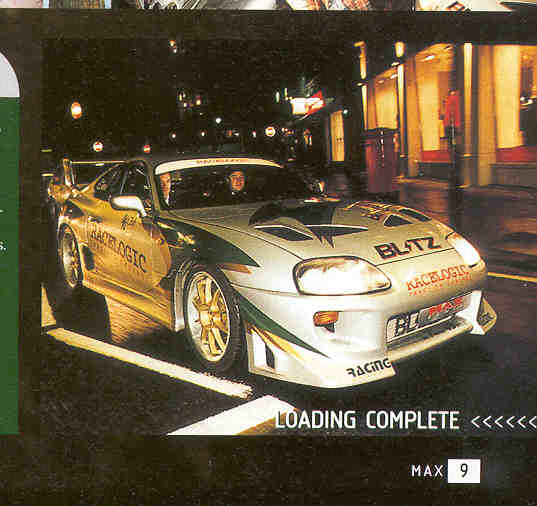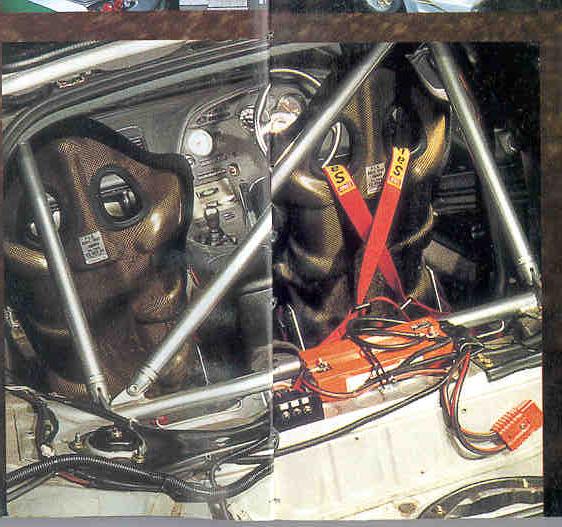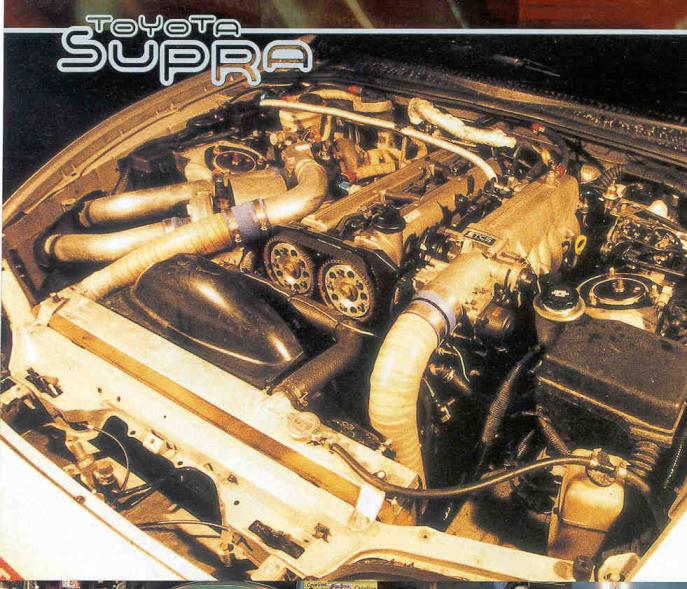 Record breakers
Last year, Japan's foremost hyper-formance tuners, Blitz teamed up with UK's traction control experts, Racelogic. Their plan was to modify a Supra to break the outright lap record of the Nurburgring for a tuned road car. They did it, in 7 mins 49 secs. Here are the facts:
14-mile lap with over 80 corners, ranging from hairpins to 190mph bends.
Scene of Nicki Lauda's flaming crash in 1976.
Anyone can drive it. Just turn up with a tenner and a spare pair of pants.
This also means you might come across a coachload of Armenian tourists, when you're on a quick one.
A torn-off wheel was found a mile from the track in a nearby forest.
It's possible you could die there and no-one would ever find you.
The fastest car speed recorded on the two-mile straight was 240mph.
Eight-minute laps defy belief. This cars done a 7:49.
Jackie Stewart once said: "The only time you can do a perfect lap of the ring is in your head".
Its only four hours away, one you're in France. Call 0049-6205-9500.