Toyota Supra mkiv
Mag and Turbo Lowdown Article - October 2001
Very mean Twin Turbo Supra

LOWDOWN took a look at Justins very rapid Supra, not only a cruise car but a solid performer on the track...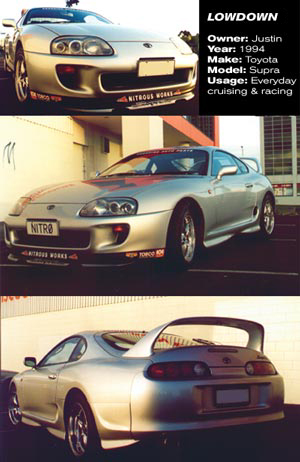 Justin's 1994 RZ Twin Turbo Supra is in miraculous condition given that heís owned it for over a year and despite the fact that he likes to drive it hard and fast. After owning a series of V-8ís from the day he got his licence (an impressive resume of American muscle cars at that) he decided he liked the look, performance and features that many late-model Japanese cars offered. The first two Jappers he owned were Nissan 300 Zís, the last of which he sold just prior to the ZX market price tumble.

Looking for something a little rare with lots of grunt, great potential and better features, the Supra presented itself as an excellent choice. Supraís have relatively bullet proof engines as well, so when a non accident silver one was made available Justin grabbed it pretty swiftly. The Supra came with the full factory optional body kit comprising the outstanding active front spoiler, side skirts and rear wing. The wheels, 17" polished AVRís came with the car also as well as factory Bilstein shocks, Apex-i air filter and fuel controller.

The car has not been modified much, as Justin likes the factory look and performance and one of his main goals is to have the fastest factory spec twin turbo Supra in the country. A nitrous kit has been added, however, and Justin fitted a 3 inch mandrel bent front system, which added about 100 hp and helped the car from a 14.7 to a 13.4.

While the Supra is a definitely a looker and makes for a great weekend cruise or a daily drive to work, it does pretty darn good on the track as well. As mentioned, he wants this to be the fastest factory Supra in the country and managed to come third overall in the 6-cylinder class at the Night Wars last season running a NOSíd 12.7 at 111 mph and a 13.1 without NOS on street tyres. The Supra will compete in the new Turbo 2 class in the Night Wars this season and Justin and the Mkiv club aim to enter a foursome in the upcoming club champs at Meremere.

It may already look great and itís proven itself on the track, but there are a few mods Justin would still like to make. A front mounted intercooler is in the pipeline, as is a Hi-stall converter for the A340E 4 speed auto as well export spec turboís and injectors (the UK and US versions have about 40 hhp more than the Japanese version). Feedback from the other club members, and a keen study of trends in the States and Aussie via the web and magazines offer up good ideas, so weíll keep you posted about these mods as they happen.

---


Back to Home Page

Thanks for visiting mkiv.co.nz
Last modified on Tuesday, October 23rd, 2001