Once it was the darling of poseurs but hardly a serious sportster. Now the Toyota Supra has the looks and credentials to be treated with much more respect. Not yet a supercar, but high on Excitement Factor.
ITS A FOUR-WHEELED challenge to any male within 100 metres, a mobile testosterone extraction laboratory, an assassin with discretion in its sights. It's a horned and winged devil-car, headlight washer nozzles jutting obscenely from the front bumper, huge rear spoiler arching across the bootlid.
Prowl the streets in Toyota's Supra and you'll not be ignored. Lips might form the word "wanker!" as often as "wow!" but eyes will be dragged to follow. Cruise up behind almost any other car on the motorway and count the seconds until a passenger's head turns; then, if the driver's a male, watch for the stiffening set of his shoulders and the almost involuntary press on the accelerator.
God, it's fun. Well, hey, what was Toyota to do with the model except try to produce a supercar? Even if it has fallen a bit short of the target.
Spawned originally from the Celica, the previous Supra had grown strong but clumsy, a poseur's machine with the finesse of a steam-hammer, a great car for Tokyo hairdressers who were also into serious body-building.
Performance was there in spades, but that was all, so to get your jollies you needed to be close to escape velocity, which was well outside the capability envelope of the chassis. It was all a bit of a worry.
So - scrap all but the model name and the basic structure of the three-litre 2JZ straight six motor and start with a blank sheet. Take a bold but comparatively simple route to bulk herbs by fitting the donk with twin, sequential turbos. Develop a pair of heavyweight transmissions (four-speed auto or six-speed manual) and send their output to the rear wheels via a Torsen limited-slip-diff-with its own oil cooler for the times when it will inevitably get hot 'n' bothered.
Filch the wheels and tyres from a nearby earthmover, slot in 325mm brake rotors gripped by four-piston calipers up front and twin-spotters behind, and hang the lot off a new and highly rigid body by jumbo wishbone units. In case someone is tempted to go silly, provide four-channel ABS with an advanced G-force sensor, traction control and dual airbags, and you're close to being in business.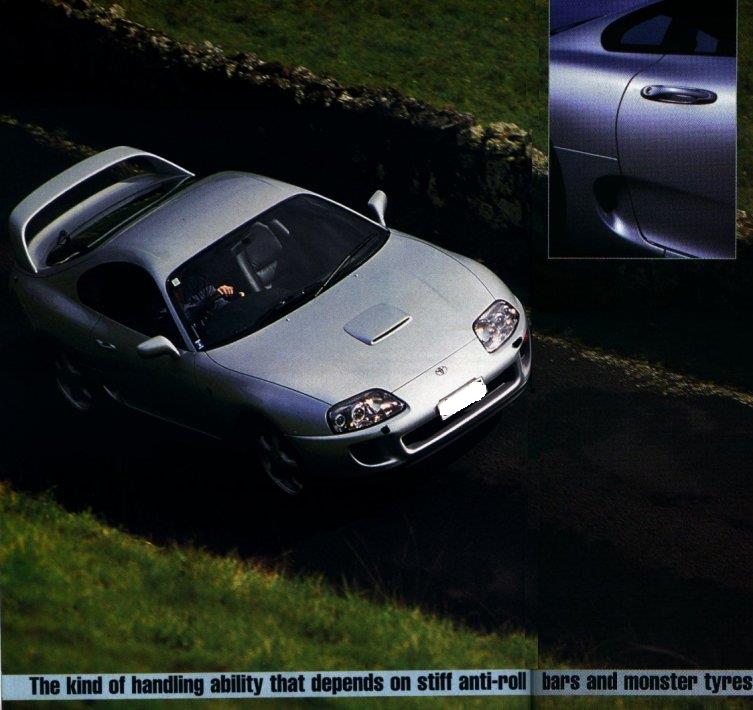 On the page, the new Supra reads impressively. Peak power is 243kw, more go than anything you can get in this country outside the Ferraris, a couple of Porsches and the BMW M5. With the turbos to bump it along, torque is in the bulldozer league - a peak of 440Nm at 4800rpm and greater than 400Nm all the way from 2000 to 5500rpm.
They don't come much gruntier. Toyota quotes a 0-100km/h time of 5.1 seconds, which compares to 4.7 for the Ferrari 355 and 4.6 for a Porsche 911 Turbo. A Honda NSX is nearly a second slower, the hyper brigade over a second quicker.
But 5.1 ain't what you'll get in this country, at least not until 95-octane unleaded arrives. Toyota builds some very smart control units, that can take one sniff and twig a petrol's vintage. They'll stop an engine lunching itself on a poor diet, but can't manufacture oomph when the juice don't have enough to match the compression ratio.
Let's not bag the Supra on that account though. The test example still turned in zero to 100 clicks in 6.4 seconds. Anybody who tells yout that's no big deal is either a pro race driver or a dreamer, 'cos it's still darn quick.
The Supra's manner tends to hide the impression of speed as well. Because of the midrange urge delivered by the turbos you find yourself short-shifting; going quick,sure, but always in a gear too high and too relaxed.
Best way to fully experience the car is to change down to third at about 50km/h and bury the right foot. You'll thrill to the high-pitched whistle of the first turbo cutting in at 2800rpm and the rush of acceleration it delivers, but that's merely the sputtering of the fuse compared with when the booster rockets fire at 5000 and POW!, time and space are suddenly distorted. The first turbo is merely to soften you up, the second delivers the knock-out punch. Hooo hah!
Driven this way, the test Supra hurtled from 80 to 110km/h quicker than any of the several hundred cars I've put a watch against in the past eight years, and on that list are all but the half million dollar-plus brigade. Overtaking is a dream, rapid and safe, One warning, however; don't make a last minute check over your shoulder in case somebody else is coming up quickly. You're likely to catch a peripheral glimpse of the giant wing lurking out back and be convinced some madman in an F14 had mistaken the highway for a carrier deck.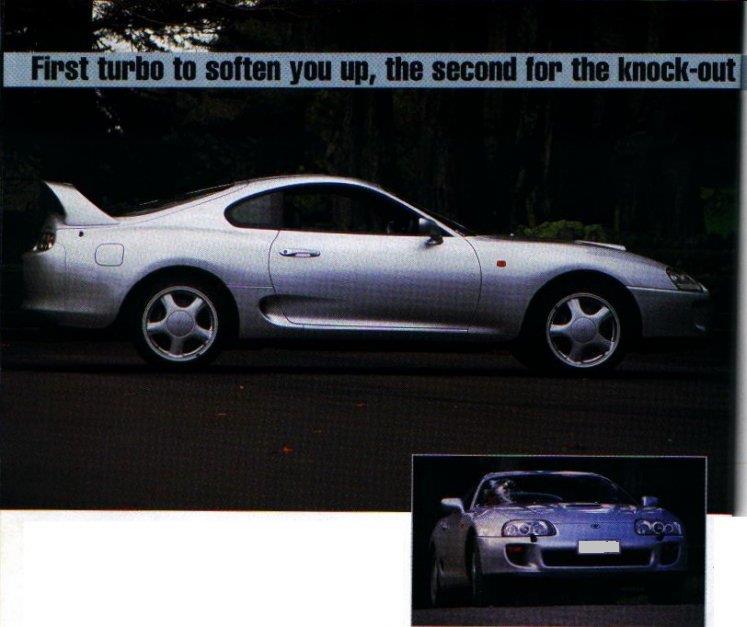 So thunderous is the onset of the serious power the transmission can feel a bit short-geared in first and second. First is actually as high as it can comfortably be, though second is too close to it and could be higher. The intermediates are well-spaced, with fifth as a de facto top and sixth a lolloping highway cog, giving just 2250rpm at the speed limit.
Shift action is precise and firm, and prefers not to be hurried, or fourth and sixth are apt to get snagged up.
The Supra's handling is of the sort whose undoubted competence depends more on stiff anti-roll bars and monster tyres than any intrinsic talent in the chassis. It could well be brilliant, probably is, but we'll never know.
Wheels are 17-inchers: the eight-inch wide front rims carry 235/45 ZR Michelin Pilot SXs; astern, they're an inch and a half wider still, and fitted with 255/40 boots.
With drive to the rear wheels only, the rear end needs plenty of rubber. The tyres also get a hand in the form of traction control which works primarily on the throttle and, if that isn't enough, by pulsing the ABS. If you have an unlimited tyre budget and must hoon, the traction control can be turned off. On the grounds that it isn't too big-brotherish and actually allows a little bit a rear-wheel sliding before cutting in, I left it in operation most of the time.
The sheer width of rubber on the road makes for a certain amount of tramlining at intermediate speeds over less-than-smooth surfaces. The car isn't nervy, it simply doesn't follow a smooth path. Going quicker sees things sort out nicely- the steering wheel firms up and starts transmitting messages, if not with ideal fluency, at least believably. In fact, the car handles much better than it gives itself credit for. The combination of rear drive, explosive power delivery and shortish wheelbase could be a scary recipe, but the harder you go the more it simply knuckles down to the task. Grip at first seems endless, but even when the Michelins cry quits they give plenty of warning; nor does the chassis seem to have any nasty habits on the limit.
From the aesthetic and comfort viewpoint the Supra's cabin is not too bad, though it fails to provide the ambience you'd expect for $165,000. Perhaps it's the black tonings that seem de rigeur for a sports coupe these days, though to give Toyota its due, the blue-green of several major mouldings is a step in the right direction. Instead of having their own separate panel, the three instrument dials are set into a one-piece fascia panel that angles down to meet the centre console. Control switches look a little haphazardly-sited, but prove on use to be not so. The car has climate control air, leather upholstery, cruise control and six-speaker audio. The front seats are supportive when driving hard, comfortable over a long trip, and their occupants both have airbags in front of them.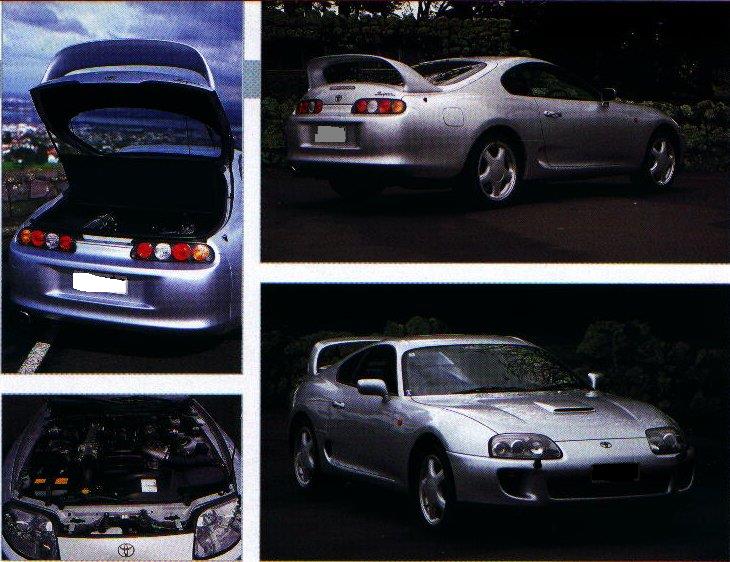 Behind them is little more than a storage space for odds and sodds. The Supra might be technically a 2+2, but the second 2 is tiny. Rear seat backs tip to extend a boot whose volume is compromised by a high-set floor, a consequence of rear-wheel drive and double wish-bone suspension.
As close to the ultimate in up-yours horn the new Supra demands one helluva lot of respect. It goes harder than anybody could want a car to go, and if at the moment it falls a touch short of the claimed figures, in 18 months time - the oil companies willing - our Supra should be able to approach that magic 5.1 seconds.
But it will struggle for acceptance, both here and world-wide. Forget that by absolute standards it's a very good motor car, even at $165,000. It doesn't have the tradition of the Europeans, the sophistication of the NSX, the high-technology and race successes of the Skyline GT-R. It's less expensive than the majority of them, but it's also crass, simple, carries a doubtful pedigree, and is the mose expensive Toyota you can buy.
The company faced that hurdle with the Lexus and cleared it triumphantly. Without doubt some future Toyota sports coupe will command equal respect in its segment. I hope it's called a Supra: this one deserves to have its name continued.
BRIEFLY:
ENGINE: Awesome power, booster-rocket effect of second turbo. Will get even better when we get 95 octane petrol.
TRANSMISSION: More than enough gears for every eventuality. Shift action doesn't like being hurried.
BRAKES: With clever ABS and big tyres, all the stopping power you could want.
STEERING/ROADHOLDING: Tramlines at lower speeds, sorts itself out thereafter. Incredible grip, no fuss balance.
SUSPENSION/RIDE: Firm but not hard. Jolts over bumps, otherwise comforty.
BEST POINTS: Performance, feeling of toughness and competence, great seats, in your face styling.
WORST POINTS: Lack of pedigree to be a believable supercar, cramped cabin, in your face styling.
PRICE: $165,000

TECHNICAL:
ENGINE: Longitudinally-mounted inline six. DOuble overhead camshafts, four valves per cylinder, multipoint fuel injection. Twin sequential turbochargers, intercooler. Capacity, 2997cc; bore x stroke, 86mm x 86mm, peak power, 243kw @ 5600rpm, peak torque, 440Nm @ 4800rpm.
TRANSMISSION: Six-speed manual. Torsen limited-slip differential. Rear wheel drive.
SUSPENSION: Front and rear - double wishbones, stabiliser bar.
BRAKES: Vented discs front and rear. ABS. Traction control.
WHEELS and TYRES: Front - 8.0JJ alloy rims, 235/45 ZR17 tyres, Rear - 9.5JJ alloy rims, 255/40 ZR17 tyres.
DIMENSIONS: Length, 4515mm; width, 1810mm; height, 1275mm; wheelbase, 2550mm.
PERFORMANCE: 0-100km/h, 6.4 seconds; top speed, 250km/g (governed).